YaSM Project - Service Structure
Jump to navigation
Jump to search
Overview  ◀   Project step 1: Drawing up the service structure    ▶ Project step 2
Any YaSM initiative should start by looking at services. After all, the whole idea behind introducing service management best practice is to achieve a better focus on services.
Customer services and supporting services
To get a clear picture of the service provider's range of services, it is advisable to develop a service structure, comprising both customer and supporting services.
This reflects one of the most important principles in YaSM and other service management frameworks:
Customer services (services offered to customers) are typically based on a set of supporting services (services visible only inside the service provider organization). Supporting services may be operated with the service provider's own resources or by an external party.
There is often confusion about what exactly is considered a customer service: Customer services are characterized by providing value to clients; an example would be a service which allows the clients to send and receive emails and to access the internet.
Supporting services, in contrast, are not of direct value to clients but are needed as building blocks for customer services. The provision of a suitable network infrastructure, for example, would be a typical supporting service which is required to offer clients an internet access service.
In other words, what the customers want is reliable internet access, not a specific sort of technical infrastructure (in fact it is irrelevant to the clients that some infrastructure is needed to provide them with internet access).
Creating a list of customer services
A good way to get started is creating a list of existing customer services, using - if possible - existing agreements and other documentation. If no service-related information is available, a basic list of services must be drawn up from scratch, including at least short descriptions and an overview of which customers use which services.
To keep the number of services (and service agreements) manageable, several related service components are often bundled into customer services: A typical customer service offered by information technology service providers, "Provision of desktop PCs", may thus include
Initial installation
Troubleshooting
User assistance
Software updates
Hardware updates
Etc.
It is not recommended at this stage to ask customers to sign service agreements: Customer service agreements should be signed at a later point in time, when the services have been formally set up and the customer relationship management process is operational.
Identifying supporting services
Once it is clear which services are provided for the customers it becomes possible to identify the supporting services.
A key objective of defining supporting services is to assign responsibilities for the delivery of those services: The service owners are responsible for delivering the services in accordance with the agreed service quality levels.
Supporting services are often closely related to certain parts of the technical infrastructure, such as major application systems or infrastructure components: "Providing the SAP environment" would be a typical example.
Drawing up the service structure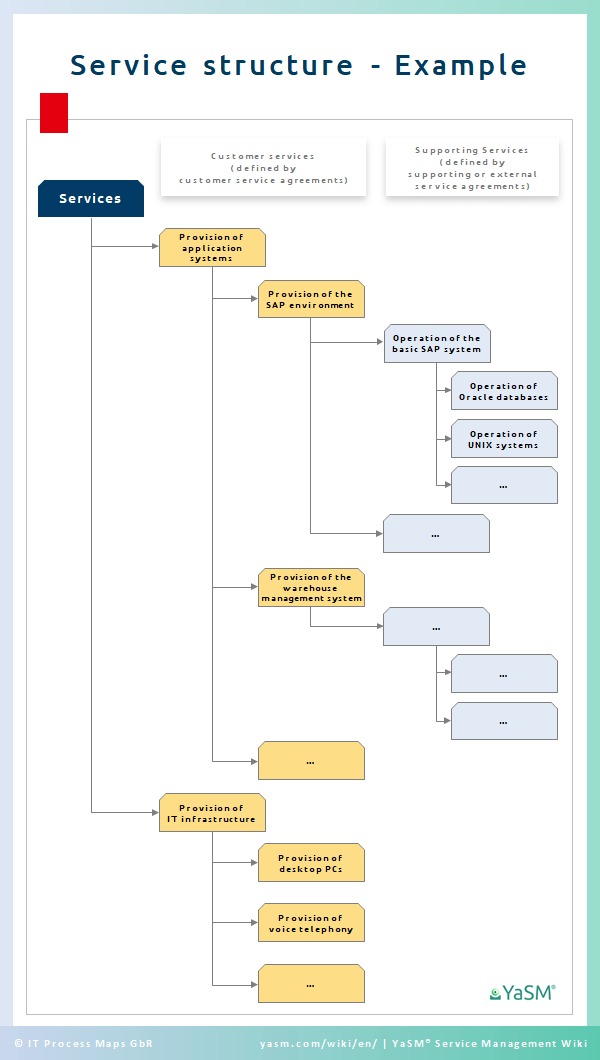 Having identified customer and supporting services, the remaining task is to draw up the service structure by determining their interdependencies. An example is shown in figure 1.
Supporting services may be arranged in several layers; for example, a service responsible for operating a certain application system may rely on another supporting service providing a basic operation system environment.
The service structure drawn up in this project step will be a valuable input at a later point in time, when the service portfolio management process is being implemented.

Results
List of customer services, including at least short service descriptions and an overview of which customers are using which services
List of supporting services, including at least short service descriptions, responsible service owners and indications of whether the services are operated with internal or external resources
Service structure, describing the service interdependencies.
Notes
Is based on: The YaSM Process Map. - Document: YaSM Implementation Guide.
By:  Andrea Kempter 
  and  Stefan Kempter 
, IT Process Maps.
Customer services and supporting services › Creating a list of customer services › Identifying supporting services › Drawing up the service structure › Results