Service management templates in BPMN XML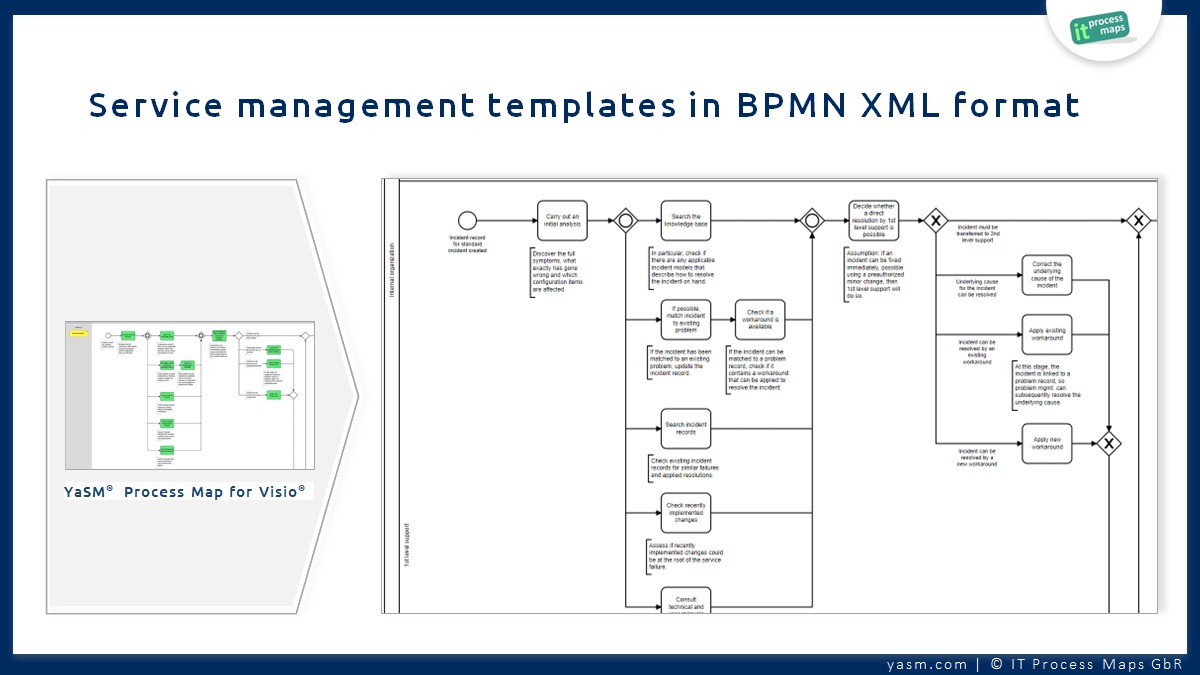 Business Process Model and Notation (BPMN) has emerged as the de-facto standard for business process diagrams and is supported by many tools for business process management (BPM).
For users of such BPM tools, we provide the YaSM process templates as BPMN-DI compliant XML documents.
YaSM, ITIL and ITSM templates for Adonis, Signavio, iGrafx, etc.
The most popular edition of our process model for service management, the YaSM Process Map for Microsoft Visio, provides process templates as Visio diagrams to support a wide range of YaSM and ITIL / ITSM initiatives. These diagrams use BPMN-style Visio shapes and are therefore easy to read for anyone familiar with BPMN.
Visio diagrams are stored as VSDX files. These are XML documents so they can be read by other applications in principle, but the underlying XML schema is owned and controlled by Microsoft. For this reason, most business process management tools have difficulties with importing Visio diagrams, even if they look like perfect BPMN.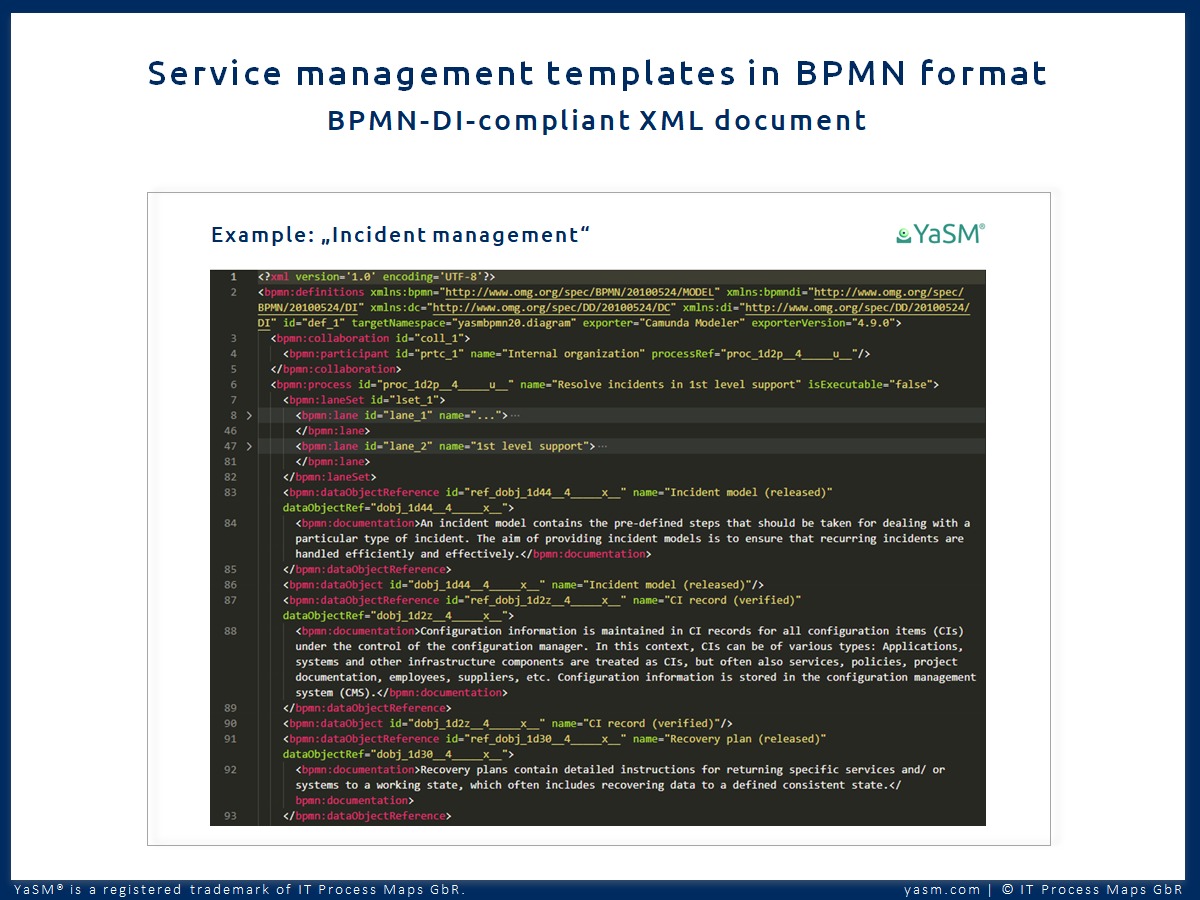 BPMN-DI compliant XML documents, in contrast, are based on the specifications of the open BPMN standard. This standard was designed specifically to describe structural process information, such as sequences of activities, decision points, input / output relationships, etc.
For most business process management tools, such as Adonis®, Signavio® or iGrafx®, importing BPMN XML documents is therefore relatively straightforward, and indeed importing BPMN files is a standard feature in many of those applications.
BPM tools that support importing BPMN-compliant XML documents include:
Adonis® by BOC Information Technologies,
Signavio® by SAP,
iGrafx®,
Aeneis® von Intellior AG,
Enterprise Architect® von Sparx Systems
and many others.
To find out if the BPM tool used in your organization supports the BPMN standard, please check the documentation. If you would like to test the import of our YaSM BPMN templates, please get in touch with us and we will send you some samples.
Available free of charge to licensed organizations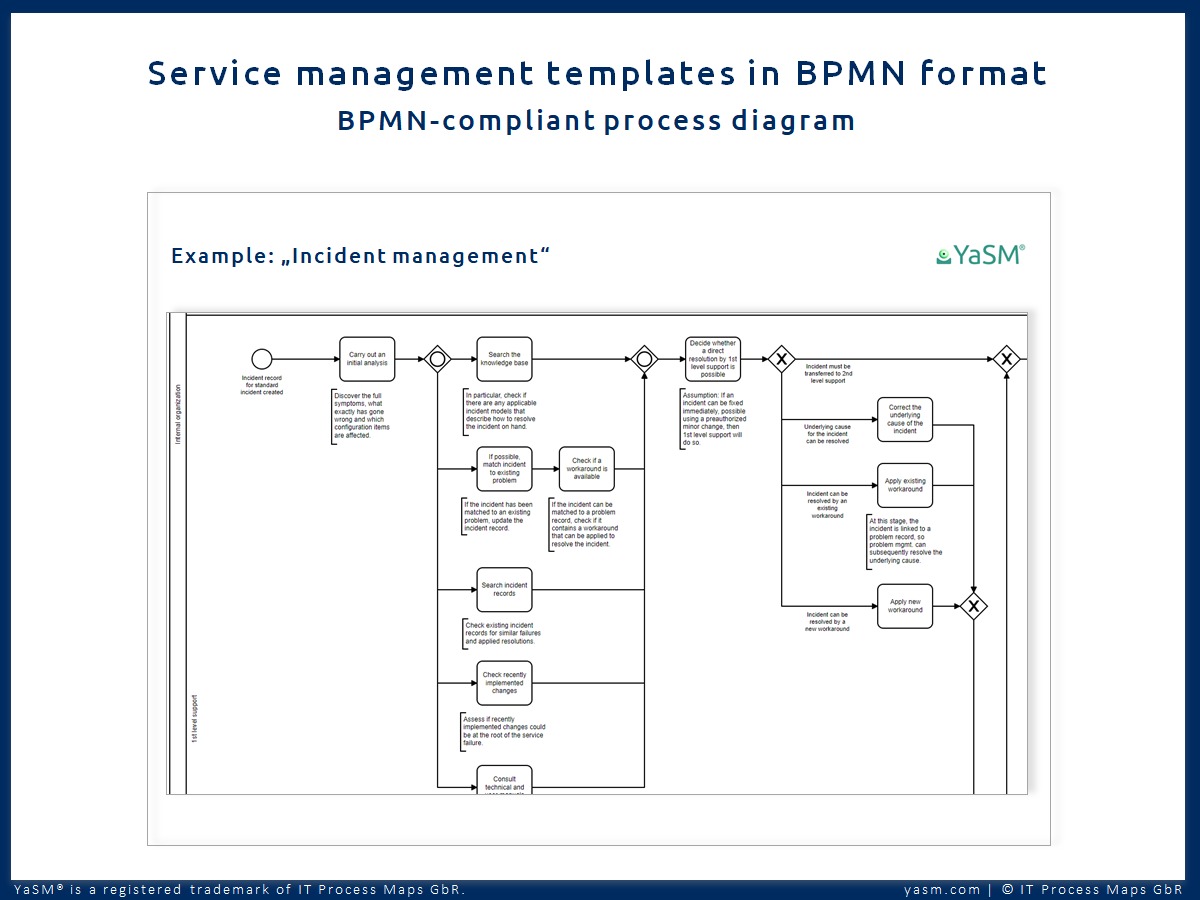 The BPMN templates for the YaSM service management processes are available free of charge as additional content to licensed users of the YaSM Process Map for Visio.
Why don't we offer the YaSM BPMN process templates as a standalone product? The reason is that, for the sake of interoperability, the BPMN standard provides a simple means of creating easy-to-read, flowchart-like diagrams.
So some of the content included in the full YaSM Process Map cannot be delivered in BPMN XML format, for example
What is more, XML documents that strictly adhere to the BPMN standard cannot contain information about styling or graphical elements that help with explaining a process.
The combination of Visio diagrams and BPMN XML documents provides users with the best of both worlds:
The YaSM Process Map for Visio provides the full content that we have created around YaSM,
and the BPMN XML documents provide a starting point for documenting your service management or ITIL processes in your favorite process management tool.
Fully editable BPMN templates
Typically, business process tools like Adonis®, Signavio®, iGrafx® etc. store information about processes in their own, proprietary format. When importing the YaSM BPMN templates into your BPM application, the model semantics and diagram information will be converted into those proprietary formats. You will then be able to use and modify the resulting diagrams in your BPM tool without limitations.
BPMN XML documents, however, contain mostly structural data about processes and some basic diagram information, such as shape types, positions and sizes, but no other styling and layout information. Also, some business process tools may ignore information provided in the BPMN XML documents. For example, a tool may decide to use its own default shapes, ignoring the sizes defined the BPMN XML document.
Still, importing the YaSM BPMN documents into your own tool will get you started with diagrams that contain all elements that make up the processes. This will very likely save you a lot of work, since you do not have to start from nothing.
So, after importing the YaSM templates into your BPMN tool, the resulting diagrams may not look perfect at first. It will often be necessary to adjust shape sizes and positions, and at the same time you can apply the preferred styling used in your organization. Since the XML documents do not contain links, it you may also want to insert links into the process diagrams for easier navigation.
If you would like to try our YaSM BPMN templates, we are happy to send you example documents (please get in touch).
About BPMN (Business Process Model and Notation)
The primary goal of Business Process Model and Notation (BPMN) is "to provide a notation that is readily understandable by all business users, from the business analysts that create the initial drafts of the processes, to the technical developers responsible for implementing the technology that will perform those processes, and finally, to the businesspeople who will manage and monitor those processes". [1]
The BPMN specification is maintained by a working group at the Object Management Group® (OMG®), an international, open membership, not-for-profit technology standards consortium.
BPMN uses an easy-to-read flowchart-like notation and has become the de-facto standard for business processes diagrams.
Apart from providing a notation for business processes, BPMN also specifies an XML-based interchange format (BPMN-DI) that can be used to exchange BPMN process definitions between different tools. BPMN-DI compliant XML files contain both the model semantics as well as the diagram-interchange information.
Many tools for process management allow to import BPMN-compliant process definitions, and the YaSM process templates for service management are also available as BPMN XML documents.
Resources and further reading
Related pages
Videos
Downloads
Links and trademarks
[1] Official website: OMG® - Business Process Model and Notation (BPMN)
OMG® is a registered trademark of the Object Management Group.
ADONIS® is a trademark of BOC Products & Services AG.
Enterprise Architect® is a trademark of Sparx Systems Pty Ltd.
iGrafx® is a registered trademarks of iGrafx LLC.
Signavio®, SAP® and SAP HANA® are trademarks of SAP AG.
BMPN templates BPM tools Free of charge to licensed organizations Fully editable About BPMN