ITIL® 4 is here
Last updated: November 30, 2021
AXELOS have released ITIL® 4, the latest edition of the popular ITIL framework for service management.
What is new in ITIL 4?
ITIL 4 launched in February 2019. Although ITIL 4 has been announced as an "evolution, not a revolution", it is not a minor upgrade of the ITIL framework but a completely revised body of knowledge.
ITIL 4 aims to catch up with the latest technologies and modern approaches to service management. The new edition of ITIL is in some ways a response to the emergence of new service management approaches such as SIAM and VeriSM, which were quicker in realizing that organizations need more flexible and leaner operating models, so they are better able to adapt to constantly changing customer needs.
ITIL 4 has dropped the service lifecycle and the 26 service lifecycle processes introduced with ITIL V3. This gives service providers more freedom to design tailor-made processes and individual operating models.
The ITIL 4 framework consists of two key components:
More about ITIL 4 in the YaSM Wiki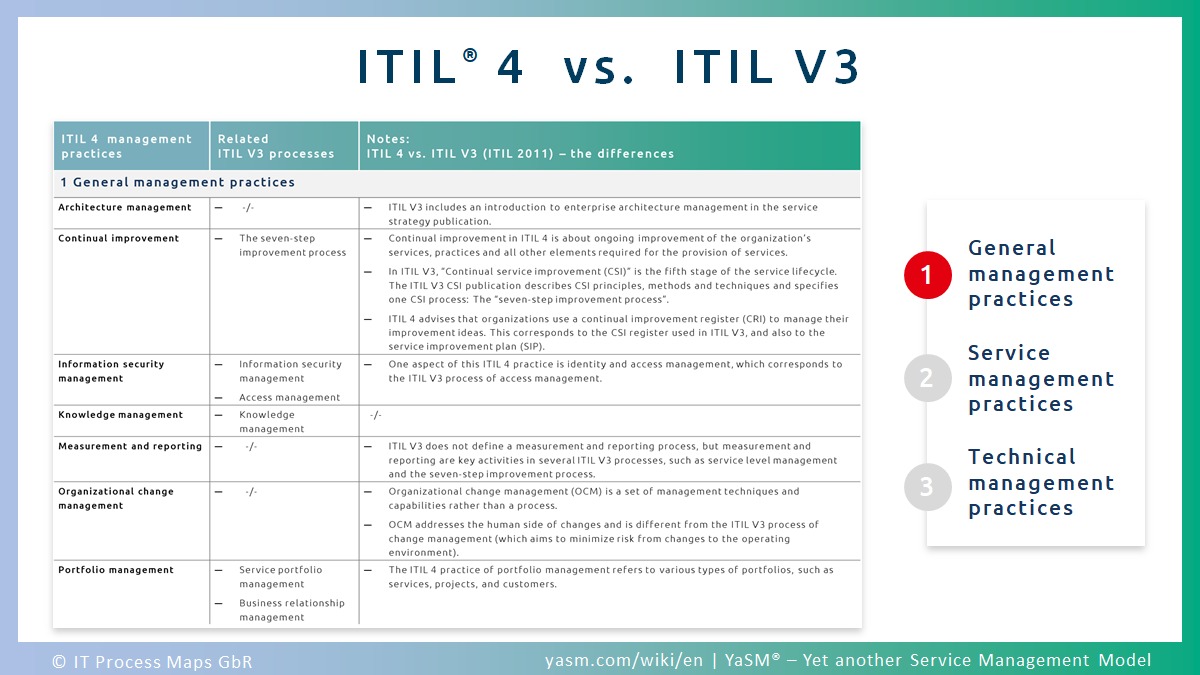 In the YaSM Service Management Wiki we provide more information about the guidance contained in ITIL 4, including a detailed comparison between ITIL V3 and ITIL 4.
YaSM: A good fit for ITIL 4
ITIL 4 advises organizations to "keep things simple and practical". This is quite in tune with the streamlined, leaner YaSM process model.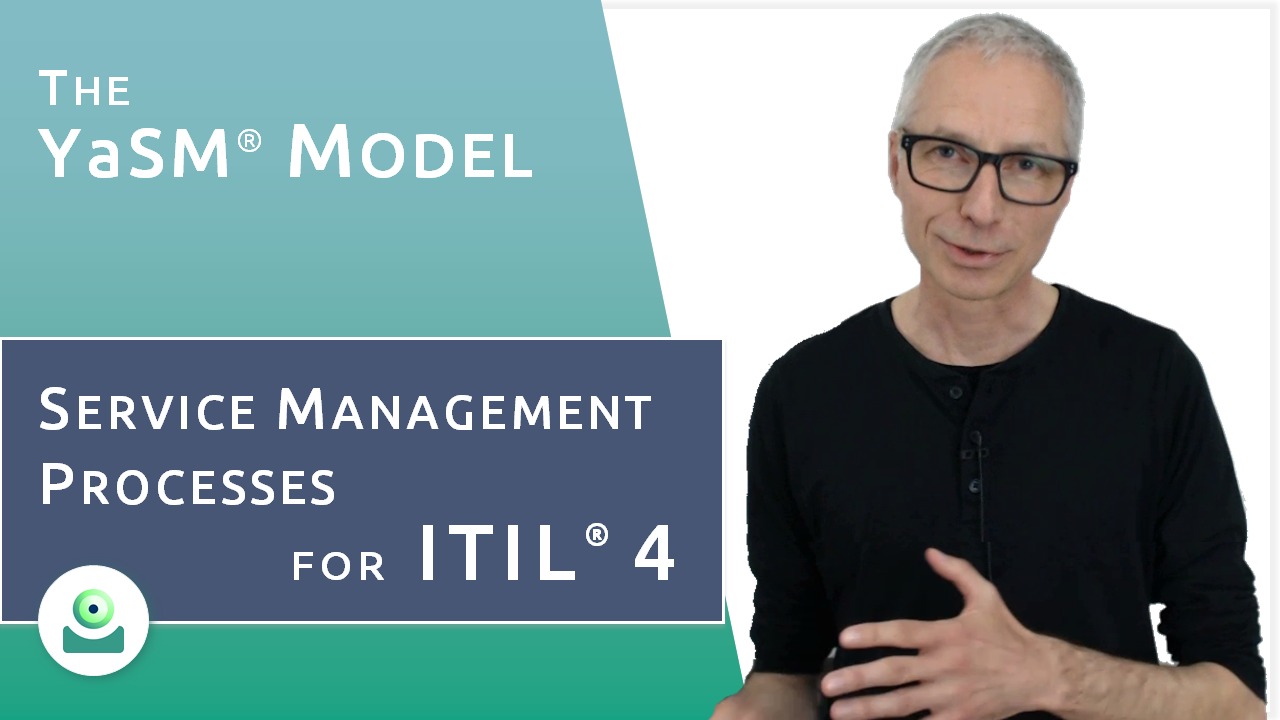 Video: YaSM and ITIL 4. - Many organizations find it difficult to translate the ITIL 4 guidelines into specific processes. YaSM helps you to get started with exemplary processes and a complete set of process templates (9:04 min.).
ITIL 4 does not define a specific set of processes that organizations should adopt, but large parts of the guidance provided in ITIL 4 can be translated into processes. In particular, many of the new ITIL 4 practices correspond to YaSM processes.
Not everything in ITIL 4, however, is a process. For example, ITIL 4 includes a number of guiding principles that can be applied in many circumstances. These principles are rather generic and should be understood as advice that organizations must keep in mind when defining their processes.
The YaSM model follows the ITIL 4 guidance and shows organizations how they can bring ITIL 4 to life in their processes. As an example, organizations are advised to "think and work holistically". The YaSM process model illustrates how this can be done in practice, describing processes and information flows that consider all relevant aspects as services are designed, built, operated and improved.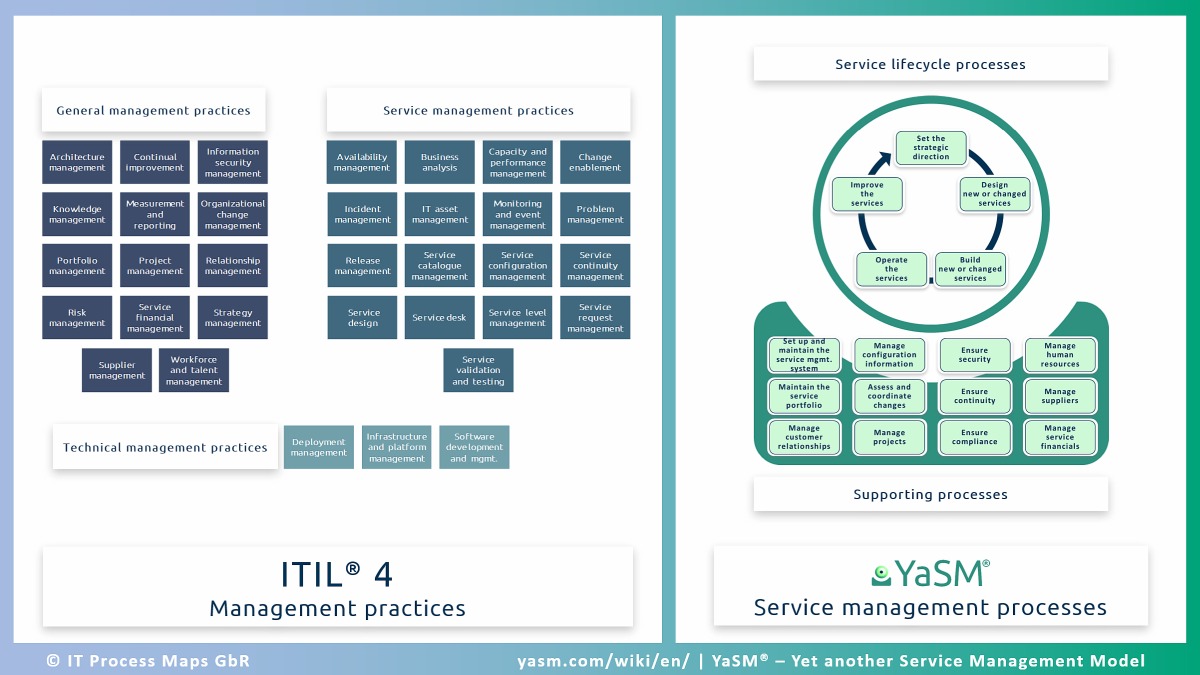 For more information, please refer to the YaSM Service Management Wiki where we describe in detail how the various elements of ITIL 4 compare with the YaSM process model.
Resources and further reading
Related pages from the YaSM Service Management Wiki
YaSM videos
What is new in ITIL 4? YaSM: A good fit for ITIL 4 Video: YaSM and ITIL 4