ITIL
From YaSM Service Management Wiki

ITIL® (IT Infrastructure Library) is a framework of best practices for the delivery of services. ITIL aims to help service providers offer their services in a quality-driven and cost-effective way.
History
ITIL® [1] was first developed at the end of the 1980's by the Central Computing and Telecommunications Agency (CCTA), a government agency in Great Britain. The reason for commissioning the CCTA was a lack of quality in the IT services procured by the British Government, so a method had to be found to achieve better quality and simultaneously decrease costs.
The first version of ITIL quickly grew into a series of 30 publications that provided guidance for improved service delivery and support. Large government and non-government organizations started to adopt ITIL, but around the turn of the century it became clear that a revision of the 30-volume framework was needed to make ITIL more accessible to a broader audience.
This led to the publication of ITIL V2, a condensed set of publications that was widely adopted. The third version of ITIL, known as ITIL V3, was published in 2007 and updated in 2011. The latest edition of ITIL, named ITIL 4, launched in February 2019. (To learn more about the different editions of ITIL, please see below).
Ownership of the ITIL trademark, intellectual property and certification scheme has changed several times. Today, ITIL is owned by Axelos Limited in Great Britain.
De-facto standard
Over the years, ITIL has become the de-facto standard for IT service management (ITSM). IT managers have adopted the service- and customer-driven approach promoted in ITIL, and the ITIL terminology is widely understood and used.
For professionals who wish to develop their IT service management skills, the official ITIL certification scheme offers different career paths, and hundreds of accredited institutions around the world offer training and examination services.
ITIL and other service management frameworks
ITIL is some 30 years old and has been updated from time to time, but other, newer service management frameworks and approaches have emerged.
Some, like FitSM, aim to promote a more lightweight approach to service management. Others, like SIAM™ and VeriSM™, have been quicker in recognizing emerging trends in service management and information technology, such as service integration, cloud technologies and Agile / DevOps.
The latest edition of ITIL 4 has arguably taken a leaf or two out of these frameworks to keep up with the times, and the popular service management frameworks appear to converging towards similar ideas: They recommend adopting a systems approach to creating value for customers and other stakeholders. Operating models should be flexible enough to allow organizations to use any methods, practices and approaches that offer benefits.
The systems approach is also in line with ISO 20000, the international standard for service management, where a key requirement is to establish a "management system to direct and control the service management activities of the organization".
ITIL 4
ITIL 4, the latest edition of the ITIL framework, was launched in February 2019. It is the first major update to ITIL since 2011, designed in large part to keep up with recent trends in software development and IT operations.
ITIL 4 takes a more holistic approach than previous versions, focusing on "end-to-end service management from demand to value". Organizations can adapt the guidance as needed, to define flexible operating models that work in their specific situations.
The key components of ITIL 4 (see fig. 1) are
The four dimensions model of service management
ITIL 4 defines four dimensions that should be considered to ensure a holistic approach to service management:
Organizations and people
Information and technology
Partners and suppliers
Value streams and processes.
These dimensions are applicable to the service value system in general and to specific services.
ITIL service value system
The service value System (SVS) represents "how all the components and activities of an organization work together to facilitate value creation." It includes several components:
The ITIL 4 service value system (SVS)

ITIL 4 SVS components
Notes

Guiding principles

The ITIL 4 guiding principles are universal recommendations that can guide organizations in many situations, such as "work holistically" and "keep it simple and practical".
Governance
The governance component of the ITIL 4 service value system is about directing and controlling the organization.

Service value chain (SVC)

The service value chain is the central element in the ITIL 4 service value system. It presents the key activities required to create value for customers. The six value chain activities are:

Plan
Improve
Engage
Design and transition
Obtain / build
Deliver and support.

For each value chain activity, ITIL 4 outlines the key inputs and outputs.

Continual improvement

The model for continual improvement describes a structured approach to identifying and implementing improvements that can be used at all levels of the organization.

Practices

ITIL 4 presents 34 practices as "sets of organizational resources designed for performing work or accomplishing an objective".
More about ITIL 4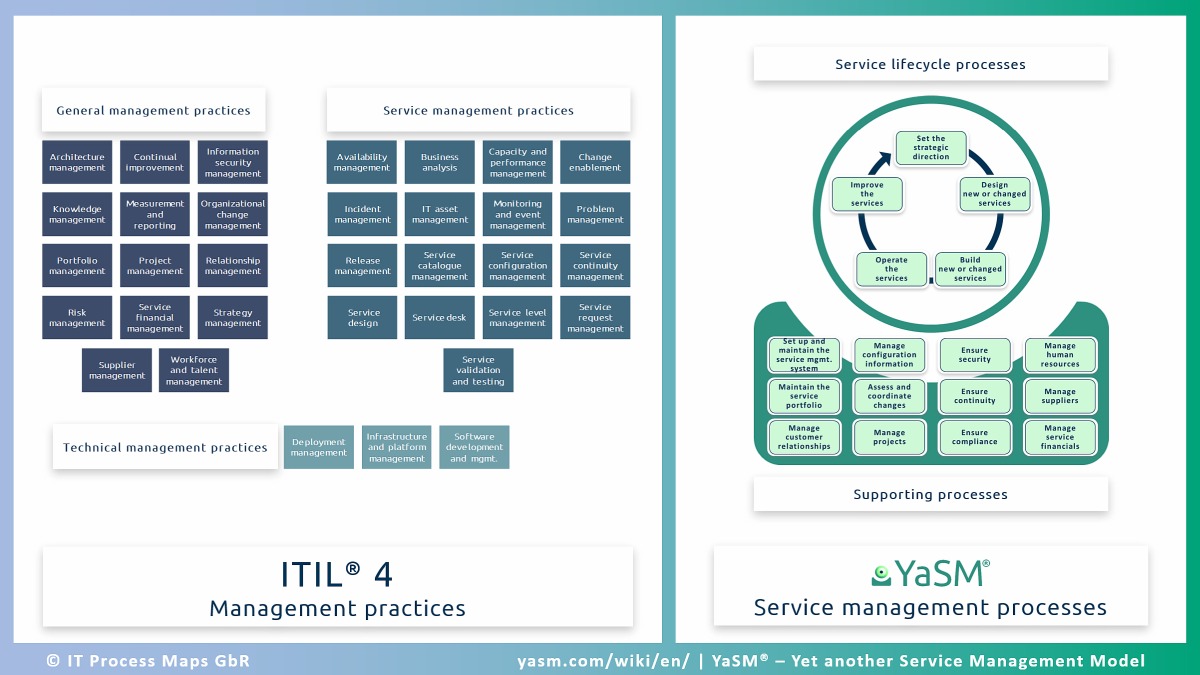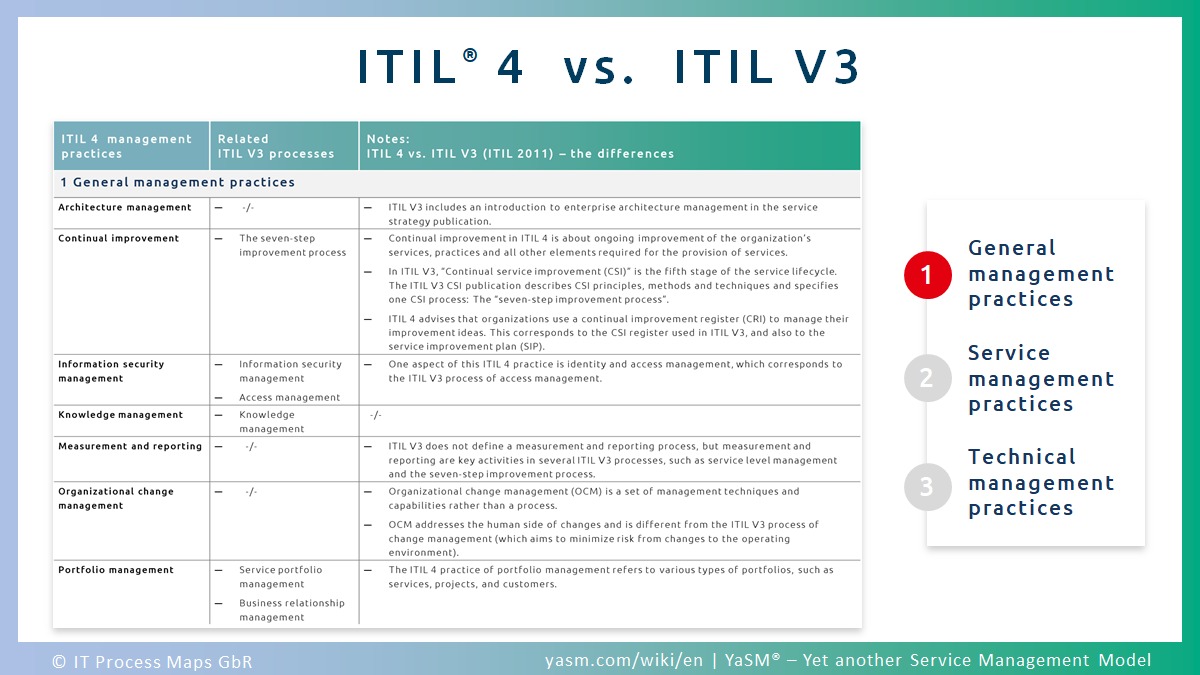 ITIL V3
In 2007, OGC published a completely revised version of ITIL, known as "ITIL Version 3 (ITIL V3)". ITIL V3 reflects the experiences gained with earlier versions of ITIL and puts a greater emphasis on creating business value. A minor update to ITIL V3 was released in 2011 to correct errors and inconsistencies.
The core guidance of ITIL V3 consists of five books, each describing a stage of the "ITIL service lifecycle" (see fig. 2):
Service strategy,
service design,
service transition,
service operation
and continual service improvement (CSI).
The key innovation in ITIL V3 is thus its adoption of the Deming cycle ("Plan-Do-Check-Act"), a well-known and generally accepted concept for continual improvement.

For each phase of the service lifecycle, ITIL V3 defines several processes. All in all, ITIL V3 specifies 26 service management processes:
ITIL V3 service lifecycle stages and related ITIL V3 processes

ITIL V3 service lifecycle stages
ITIL V3 processes

Service strategy

Strategy management for IT services
Service portfolio management
Financial management for IT services
Demand management
Business relationship management

Service design

Design coordination
Service catalogue management
Service level management
Availability management
Capacity management
IT service continuity management
Information security management
Supplier management

Service transition

Transition planning and support
Change management
Service asset and configuration management
Release and deployment management
Service validation and testing
Change evaluation
Knowledge management

Service operation

Event management
Access management
Request fulfilment
Problem management
Incident management

Continual service improvement (CSI)

The seven-step improvement process
Further reading
ITIL V2
ITIL V2 was released in 2000 and 2001, in an effort to make the first version of ITIL more accessible. What had grown into a vast 30-volume framework was condensed into a more coherent set of eight publications. Two of these publications, covering service delivery and service support, became very popular, while the six others mostly failed to reach a wider audience.
ITIL V2 defines a set of 10 processes for the areas of service delivery and service support:
ITIL V2 areas and related ITIL V2 processes

ITIL V2 areas
ITIL V2 processes
Service delivery

Service level management
Capacity management
IT service continuity management
Availability management
Financial management

Service support

Incident management
Problem management
Change management
Release management
Configuration management
Further reading
ITIL and YaSM
YaSM® helps organizations to get started with ITIL. YaSM was designed to be well aligned with ITIL and everyone familiar with the framework will instantly recognize the common principles.
Organizations that wish to adopt the guidance provided in ITIL will need to define ITIL-aligned processes. For this task, the YaSM service management model provides a complete set of process and document templates that can be adapted as required.
Further reading
Related articles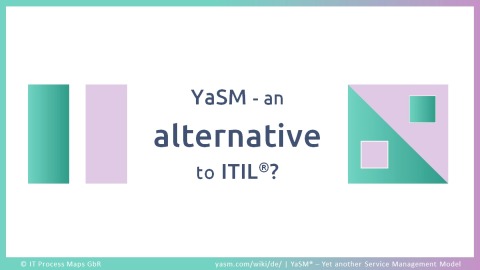 YaSM - an alternative to ITIL®?
Once in a while I get asked during our webinars if YaSM is an alternative to ITIL. It almost seems quite a few people would like to avoid having to deal with ITIL - but is it a good idea to ignore it? [...]
Is YaSM 'ITIL lite' or 'lean ITIL'?
YaSM is definitely lighter than ITIL (actually we decided to create YaSM because many of our customers looked for something lighter). But we don't want YaSM to be confused with what is often called "ITIL lite" or "lean ITIL" because we think the existing approaches are often flawed: [...]
Notes
[1] ITIL® is a registered trademark of AXELOS Limited.

By:  Andrea Kempter 

  and  Stefan Kempter 

, IT Process Maps.
History  › ITIL and other service management frameworks  › ITIL 4  › Four dimensions model  › ITIL 4 service value system