What is YaSM
From YaSM Wiki
Why 'Yet another Service Management Model'? The basic idea behind YaSM® is to provide a simpler framework for managing services, based on established best practices.
To this end we assessed the most often used frameworks and standards for enterprise service management and ITSM, in particular ITIL® [1], COBIT® [2], USMBOK™ [3], CMMI-SVC® [4] and ISO 20000, and assimilated the common and most important principles.
The result of this effort - the YaSM model - is streamlined insofar as it has a straightforward and clear process structure that makes it easy to understand the purpose of each process. Also, YaSM is not presented as an extensive theoretical work, but as a set of process diagrams and document templates.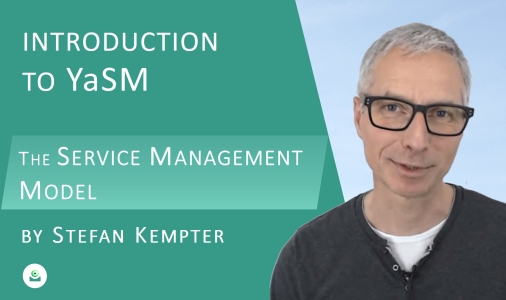 If you are new to YaSM service management, start here - in this video Stefan Kempter explains what YaSM is about and what is the best way to get started with YaSM.
Watch the video: "Introduction to YaSM Service Management" [Duration: 7:41 min.]

YaSM - the idea
Keeping YaSM as lean as possible was important to us because we wanted to ensure the model can be adapted to the specific needs of particular organizations: In our experience it is almost impossible to simplify a complex system - while starting with something simple and adding more sophistication where needed is relatively easy. Of course you can also trim the model if you need even leaner processes.
YaSM does not necessarily have to be implemented in full, but is a complete service management framework which does not merely omit whole processes or knowledge areas, as a number of approaches for "light" or "lean" service management would advocate.
To understand how YaSM is able to be both streamlined and complete, consider the following example: Several YaSM processes include the required activities for ensuring service availability. ITIL, in contrast, describes Availability Management as a separate process, to be implemented in addition to the other ITIL processes.
For a first introduction to the YaSM processes, please refer to section "YaSM service management processes".
A framework for everyone in the business of providing services
Service management frameworks (especially ITIL) are well known in the domain of information technology (IT) service providers, for whom these frameworks were originally created.
There are, however, many other types of organizations which provide services. These organizations can also benefit from applying service management best practice, so we made a point of ensuring that YaSM is easy to understand for everyone in the business of providing services.
YaSM and other service management frameworks and ITSM standards
As stated above, YaSM is based on the key principles of the most widely used service management best practice frameworks. These frameworks can be used in combination with YaSM if needed.
YaSM is particularly well aligned with ITIL so that everyone well versed in ITIL will instantly feel at home.
We also learned from our customers that many are looking for a focused and readily implementable set of processes which help them with getting certified to ISO/IEC 20000:2011, Part 1, the international standard for service management (abbreviated to ISO 20000 in this wiki). So we ensured that YaSM is a perfect fit for ISO 20000 and provides an answer for every mandatory requirement.
Please refer to the following wiki pages for more details on how the most popular service management standards and frameworks relate to YaSM:
YaSM and the YaSM Process Map
YaSM is a service management framework with an associated range of products and services.
The framework as such is available to everyone for free: The YaSM Wiki describes all YaSM processes and sub-processes with their outputs. It also contains the complete YaSM glossary, the YaSM RACI matrix, a set of recommended process metrics, as well as in-depth information on how YaSM relates to other service management standards and frameworks. All of this information can be accessed easily from the wiki's main page.
The most prominent YaSM product is a detailed process model called the "YaSM® Process Map": For each process and sub-process, the process model defines in the form of a diagram the activities to be performed, the required inputs and the resulting outputs. It also contains a full set of detailed document templates ("checklists") for the documents and records produced by the YaSM processes.
The YaSM Process Map is currently available for two platforms, Microsoft Visio® and ARIS™. All diagrams and documents are completely editable, which makes the process model the ideal starting point for developing a set of processes tailored to the needs of specific organizations.
An additional component (the "YaSM - ISO 20000 Bridge") relates the YaSM processes to the mandatory ISO 20000 requirements and specifically addresses the needs of organizations that wish to achieve certification against ISO 20000.
For more information on the YaSM Process Map and the ISO 20000 Bridge, please refer to the product pages on the YaSM web site - or have a look at our video tutorials on YaSM and the YaSM process model!
History of YaSM
We have been supplying an officially accredited process model for ITIL (the ITIL® Process Map) to help IT service providers with understanding the principles behind ITIL and designing their ITIL-aligned processes and documents since 2006.
Our approach to presenting the ITIL concepts in the form of process diagrams has been well received and is used by hundreds of organizations world-wide. These organizations are generally in favor of service management best practice and convinced of its benefits, but many also asked, "couldn't this be a bit less complex?".
It was this apparent need for something simpler which sparked the creation of YaSM.
Related blog posts
Why 'Yet another Service Management Model'?
by: Stefan Kempter | July 25, 2014
This first post in the YaSM Blog marks the launch of YaSM. We are very excited about reaching this big milestone: Getting there meant several years of hard work, but now we are able to present a shiny new service management framework with lots of fresh ideas. [...]
by: Stefan Kempter
We have been running an ITIL Wiki in three languages for many years and received a lot of positive feedback. So setting up the YaSM Wiki was a natural thing to do once YaSM was ready to be launched. [...]
Is YaSM an independent ITSM framework?
by: Stefan Kempter
Yesterday I ran into yet another 'independent' web site about IT service management. If something or someone is free of dependencies, it certainly sounds positive. [...]
Notes
[1] ITIL® is a registered trademark of AXELOS Limited.
[2] COBIT® is a registered trademark of ISACA.
[3] USMBOK™ is a registered trade mark of Virtual Knowledge Solutions International Incorporated (VKSII).
[4] CMMI® and Capability Maturity Model® are registered trademarks of Carnegie Mellon University.
By:  Stefan Kempter 
  and  Andrea Kempter 
, IT Process Maps.
YaSM - the idea › Framework for service provider › YaSM vs. other frameworks › YaSM process model