Service Management Processes
Service management processes aim to transform the service provider's resources into valuable customer services. These services are to be made available at agreed levels of quality, cost, and risk.
YaSM process structure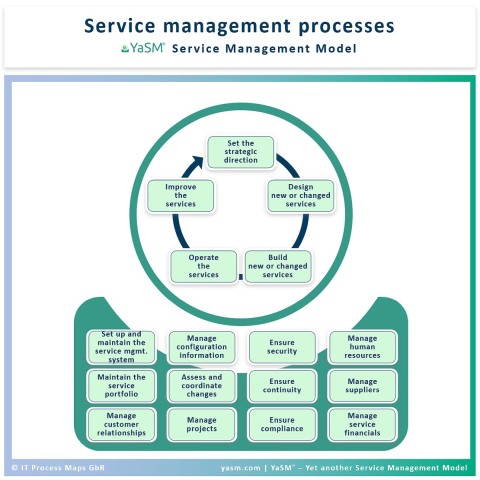 YaSM's process structure distinguishes between service lifecycle processes and supporting service management processes.
The service lifecycle processes are modeled upon a well-established management method for continuous improvement, known for example as the Deming or Plan-Do-Check-Act cycle.
The YaSM service lifecycle processes
Decide upon the service provider's strategic direction and the range of services to be offered to customers
Design, build and deploy new or changed services
Operate the services, including resolve incidents, service requests and problems
Improve the services.
The supporting service management processes provide various kinds of support to the service lifecycle processes, such as the management of customer relationships, projects, etc.
Below is a brief introduction to the YaSM processes, highlighting their purpose within the YaSM model and the most important activities. We recommend reading this introduction in combination with the YaSM glossary, where you will find definitions of all YaSM terms.

Service lifecycle processes
YaSM's service lifecycle processes ('LP') are directly concerned with managing the service provider's range of services across their lifecycle.
Strategic assessments of the service provider's current situation and future developments provide the basis for deciding which services are to be offered to customers.
Once that decision has been made, the service lifecycle processes will design, build, deploy, operate and constantly improve the services.
These are the five YaSM service lifecycle processes and their process objectives:
Supporting service management processes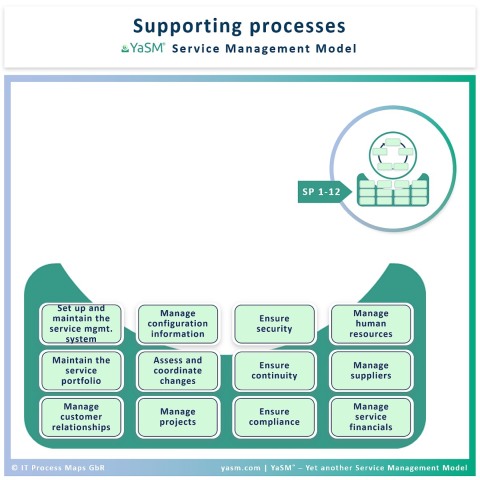 YaSM's supporting service management processes ('SP') provide various kinds of support to the service lifecycle processes.
These are the twelve YaSM supporting service management processes and their process objectives:
Comparison: YaSM and ITIL processes
Those familiar with ITIL® will recognize the similarity between the YaSM process structure and the service lifecycle introduced with ITIL v3 - but also the differences (see also: "How YaSM relates to ITIL").
We chose to arrange a set of supporting processes "underneath" the lifecycle processes because this makes the whole process structure a lot easier to understand:
Some of the complexity in ITIL results from the fact that ITIL places every process in one of five service lifecycle stages. Configuration management, for instance, is part of the service transition stage. But configuration management activities take place at various points across the service lifecycle, and configuration information is needed as an input for virtually every ITIL process. It is thus more straightforward and intuitive to treat the management of configuration information as a "supporting" process outside the service lifecycle.
Notes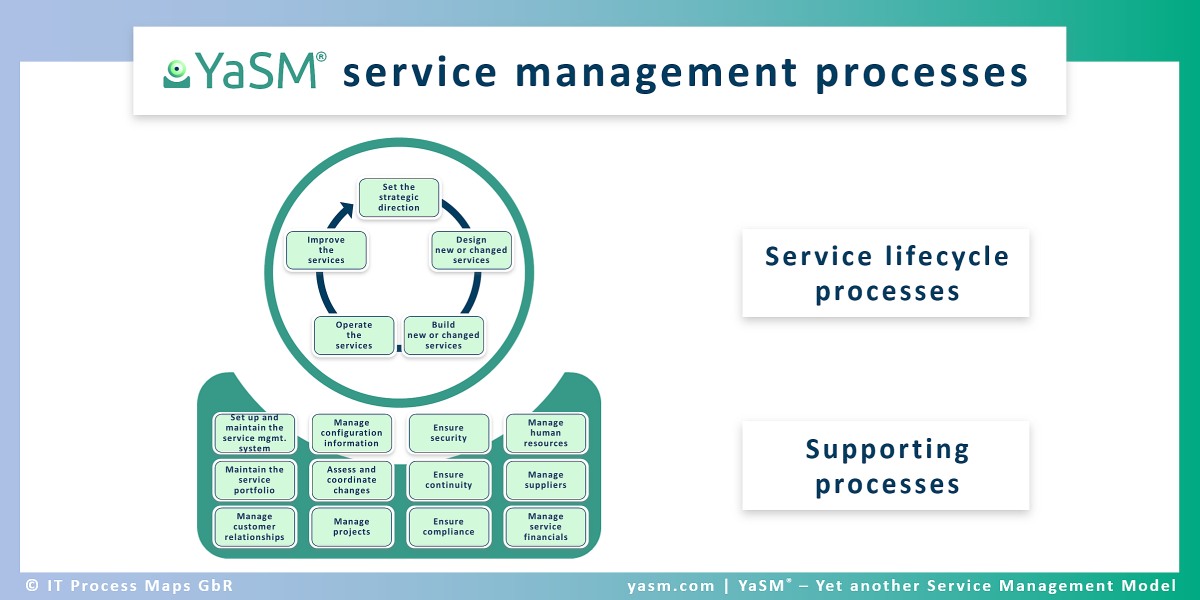 Is based on: Reference processes for enterprise service management (ESM) and IT service management (ITSM) from the YaSM Process Map.
By:  Stefan Kempter 
  and  Andrea Kempter 
, IT Process Maps.

Trademarks: ITIL® is a registered trademark of AXELOS Limited.
Process structure › Service lifecycle processes › Supporting processes