SP6: Manage projects
From YaSM Service Management Wiki

Process name: Manage projects - Part of: Supporting processes
Previous process: Assess and coordinate changes
Next process: Ensure security
Process description
The project management process in YaSM is about planning and coordinating the resources to complete a project within time, cost and scope. YaSM recommends executing all initiatives of a larger scale as formal projects (the project policy contains the rules for deciding if a project must be set up).
The impetus to start up a project may come from various sources, depending on the nature of the initiatives that are to be executed. Typical examples are:
Strategic initiatives with the aim of establishing a new or significantly changed service (see example 1, fig. 1)
Process improvement initiatives and service improvement initiatives (see example 2, fig. 2)
Initiatives to improve service security or continuity.
As many projects will involve the implementation of a number of changes that have to be tracked, the project management process will regularly report the project status to the change assessment and coordination process.
Compatibility: The YaSM project management process is aligned with ISO 20000, the international standard for service management (see ISO/IEC 20000-1:2018, section 6), and it corresponds to the practice of 'ITIL 4 project management'.
Sub-processes
YaSM project management has the following sub-processes:
SP6.1: Start up projects

Process objective: To define stakeholders, responsibilities and resources available to the project, and to identify risks, constraints and assumptions affecting the project. This process results in an authorized project charter.
SP6.2: Plan projects

Process objective: To create and update the project plan, for example with information related to the project deliverables, the project activities and the required resources.
SP6.3: Control projects

Process objective: To monitor and report on project progress and resource consumption, and to initiate corrective action if required.
SP6.4: Review and close projects

Process objective: To assess the course of the project and the achieved results, to make sure that any mistakes are analyzed and lessons learned.
Process outputs
This section lists the documents and records produced by 'project management'. YaSM data objects [*] are marked with an asterisk, while other objects are displayed in gray.
Project charter

A project charter is a document that formally authorizes a project. It outlines the project objectives and scope, identifies the main stakeholders, defines the authority of the project manager and the resources at his disposal, and lists any constraints and assumptions affecting the project. [*]

Project issue log

The project issue log is a document recording important issues and events during the course of a project, in particular issues which require action by the project board or higher levels of management. The issue log is an important tool for managing open issues, but it is also a means of documenting significant events such as decisions to update the project scope or the project milestones. [*]

Project plan

A project plan is a formal, approved document showing the deliverables, milestones, activities and resources for a project. Project plans are used to guide both project execution and project control. [*]

Project review report

The results of a project review are documented in a project review report. Project reviews take place during formal project closure. Their aim is to determine if the project was successful and to identify opportunities for improvement. [*]

Project status report

A project status report is generated at regular intervals during the course of a project. It provides an overview of the current project status and highlights, in particular, any deviations regarding project scope, schedule and cost, including measures taken to address the deviations. [*]

Suggested process modification

A suggestion for modifying one or several service management processes. Suggestions for process modifications or improvements may originate from anywhere within the organization.
---
Notes:
[*] "YaSM data objects" are those documents or records for which the YaSM model provides detailed recommendations: Every YaSM object has an associated checklist (see example) describing its typical contents, and an associated lifecycle diagram depicting how the status of the object changes as it is created, updated, read and archived by various YaSM processes (see example).
"Other objects" are mostly informal data or information where YaSM has less strong views about their contents. There are no associated lifecycle diagrams or checklists.
Process metrics
Process metrics are used, for example, to assess if the service management processes are running according to expectations.
For suggestions of suitable metrics, please refer to the list of metrics for YaSM's project management process.
Roles and responsibilities
Process owner: Project manager
The project manager is responsible for directing a project, which includes responsibility for delivering the agreed project deliverables within the agreed time and budget.
Notes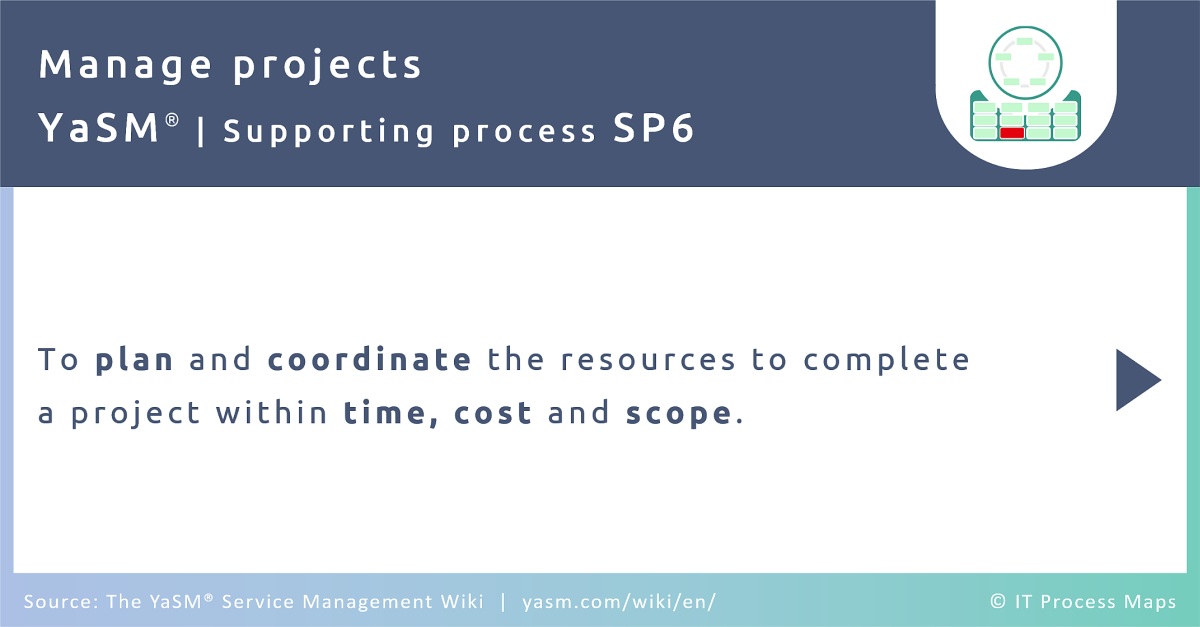 Process description  › Sub-processes  › Process outputs  › Metrics  › Roles