LP1: Set the strategic direction
From YaSM Service Management Wiki

Process name: Set the strategic direction - Part of: Service lifecycle processes
Next process: Design new or changed services
Process description
The service strategy process in YaSM assesses the service provider's range of services and the needs of current or potential future customers. Based on this assessment, the service provider is able to establish its strategic objectives and to draw up the strategic plan (the 'service strategy'). The strategic plan contains a number of initiatives or projects aimed at achieving the strategic objectives.
A typical example for a strategic objective would be the ability to offer a new service to a particular group of customers. The strategic plan would then contain one or several initiatives for developing the new service, including all required supporting infrastructure and other capabilities.
Strategic initiatives are defined and initiated by the strategic process, but usually executed by a number of other YaSM processes.
Initiatives with the aim of creating new or significantly changed services, for example, will be carried out as formal service development projects through the service design and build processes (see fig. 1).
For other types of strategic initiatives (see fig. 2), YaSM provides further mechanisms for their execution, such as:
Service improvement initiatives managed through service improvement plans
Process improvement initiatives managed through process improvement plans
Skill development initiatives managed through skills development plans.
Compatibility: The YaSM strategy process is aligned with ISO 20000, the international standard for service management (see ISO/IEC 20000-1:2018, sections 5, 6, 7, 8.2 and 9), and it corresponds to the practice of 'ITIL 4 strategy management'.
Sub-processes
YaSM's service strategy process has the following sub-processes:
LP1.1: Perform strategic assessments

Process objective: To assess the present situation of the service provider within its current and possible future market spaces. This includes an assessment of current service offerings, capabilities, customer needs and competing offers from other service providers.
LP1.2: Provide guidance for the use of technology

Process objective: To align the service provider's technical infrastructure with its strategic objectives, and to help the organization focus on a set of core technologies.
LP1.3: Define strategic initiatives

Process objective: To establish a strategic plan (the 'service strategy') containing specific initiatives aimed at achieving the service provider's strategic goals. Once the strategic initiatives are authorized, this process will also determine the most adequate ways of executing the initiatives.
LP1.4: Start up service development projects

Process objective: To start up a service development project for a new or changed service. This includes determining a service owner for a new service to be developed, ensuring funding for the service development, as well as triggering the set up of a formal project.
LP1.5: Monitor strategic initiatives

Process objective: To verify if the strategic initiatives are proceeding according to plan, and to introduce corrective measures where necessary.
Process outputs
This section lists the documents and records produced by the strategic process. YaSM data objects [*] are marked with an asterisk, while other objects are displayed in gray.
Budget request

A budget request is typically issued to obtain funding for setting up, improving or operating a service or process. An approved budget request means that the required financial resources have been allocated by the financial manager. [*]

Request to add skills and human resources

A request to add skills and human resources to the service provider organization, for example issued during service implementation if new or changed skills and/ or additional human resources are needed for a new service.

Service definition

A service definition specifies the service properties, in particular the offered functionality and the guaranteed service levels. Service definitions also describe how the organization's resources are used in order to provide the service. A service can be provided using one or several other (internal or external) supporting services. [*]

Strategic assessment report

The results of a strategic assessment are documented in a strategic assessment report. Strategic assessments typically take place at regular intervals in order to gain insight into the service provider's strengths, weaknesses and opportunities prior to updating the service strategy and the portfolio of services. [*]

Strategic objectives

The strategic objectives are formulated once a strategic assessment has been completed. They consist of a set of specific goals the service provider aims to achieve by pursuing the service strategy. As such, the strategic objectives are an important input for defining the strategic plan. [*]

Strategic plan

The strategic plan (at times referred to as the 'service strategy') identifies how the service provider will achieve its strategic objectives. It is used to manage strategic initiatives and report on their status throughout their lifecycle. The addition of new items to the strategic plan is often triggered by strategic assessments, although other service management processes may also suggest strategic initiatives. [*]

Suggested process modification

A suggestion for modifying one or several service management processes. Suggestions for process modifications or improvements may originate from anywhere within the organization.

Suggested service modification

A suggestion for modifying a service, for example to improve service quality or economics. Suggestions may originate from anywhere within or outside of the service provider organization.

Technology guideline

The technology guideline provides a high-level overview of the main infrastructure components and technologies as well as a roadmap for their future development. The technology guideline's main purposes are to align the service provider's technical infrastructure with its strategic objectives, and to help the organization focus on a set of core technologies. [*]
---
Notes:
[*] "YaSM data objects" are those documents or records for which the YaSM model provides detailed recommendations: Every YaSM object has an associated checklist (see example) describing its typical contents, and an associated lifecycle diagram depicting how the status of the object changes as it is created, updated, read and archived by various YaSM processes (see example).
"Other objects" are mostly informal data or information where YaSM has less strong views about their contents. There are no associated lifecycle diagrams or checklists.
Process metrics
Process metrics are used, for example, to assess if the service management processes are running according to expectations.
For suggestions of suitable metrics, please refer to the list of metrics for the service strategy process.
Roles and responsibilities
Process owner: Service strategy manager
The service strategy manager supports the steering group in producing and maintaining the service provider's strategy. This role is also responsible for communicating and implementing the service strategy.
Notes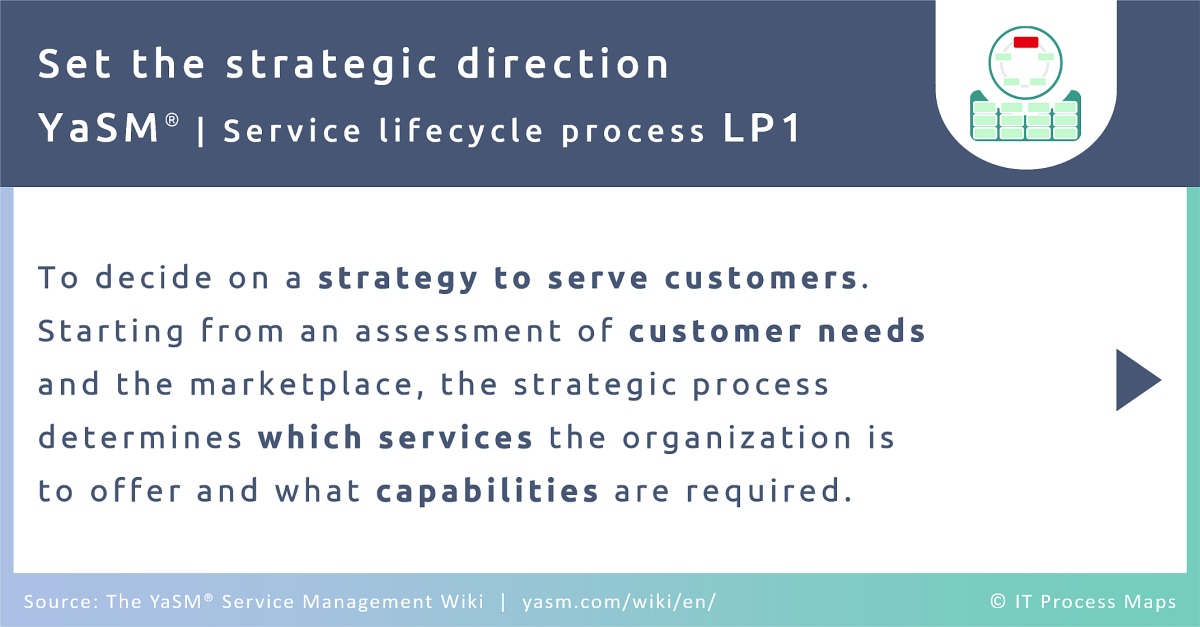 Related articles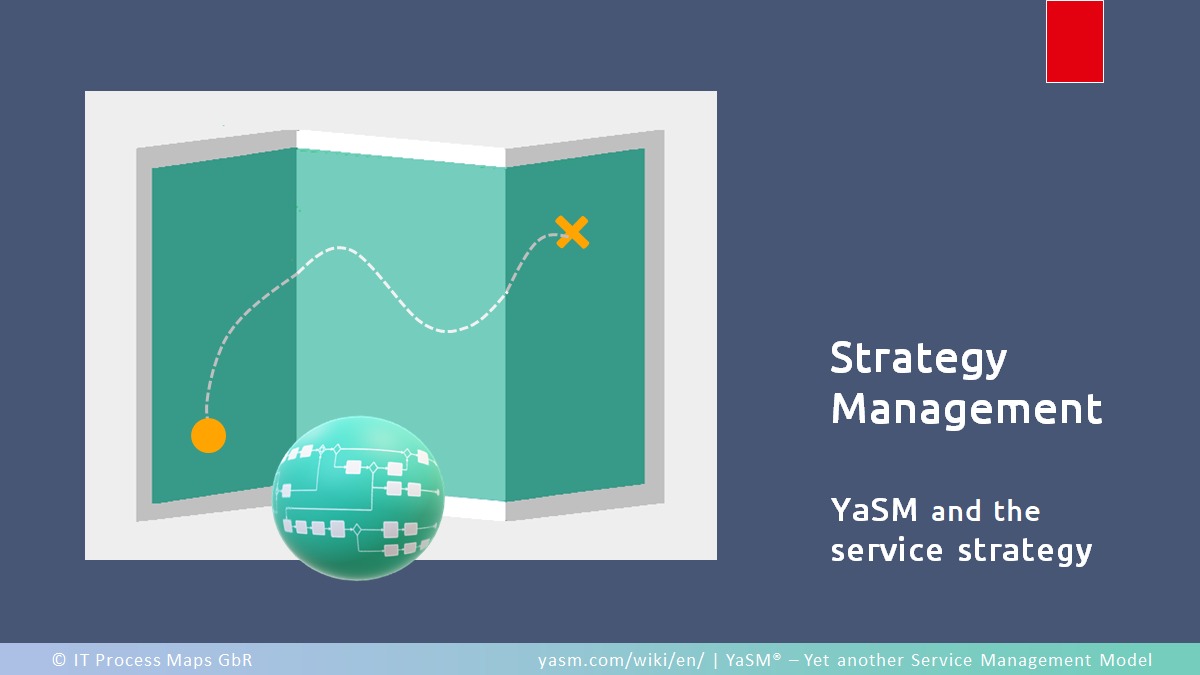 by: Stefan Kempter
The practice of service strategy is the application of strategic thinking in the domain of service management. The concepts and ideas of 'strategic management' have a long history and are a whole management discipline in their own right, with numerous models and frameworks to support strategic decision-making in businesses: [...]
Process description  › Sub-processes  › Process outputs  › Metrics  › Roles