LP4: Operate the services
From YaSM Service Management Wiki

Process name: Operate the services - Part of: Service lifecycle processes
Previous process: Build new or changed services
Next process: Improve the services
Process description
The service operation process in YaSM (fig. 1) ensures that the services are delivered effectively and efficiently, in line with the contractual commitments. This includes fulfilling service requests, resolving incidents and problems, as well as carrying out routine operational tasks.
The achieved service quality is measured on a regular basis. The resulting service quality reports are an important input for the service improvement process.
Figure 1 above also highlights how three particular sub-processes from service operation (Monitor the services, Resolve incidents and service requests, Resolve problems) cooperate in order to detect and resolve actual or potential incidents and their underlying causes (problems).
Compatibility: The YaSM service operation process is aligned with ISO 20000, the international standard for service management (see ISO/IEC 20000-1:2018, sections 8.3, 8.4, 8.7 and 9) and it corresponds to various ITIL 4 practices, such as 'monitoring and event management', 'ITIL 4 incident management' and 'ITIL 4 problem management'.
Sub-processes
YaSM's service operation process has the following sub-processes:
LP4.1: Support the service operation

Process objective: To provide support for service operation, for example by ensuring that the required resources for operating the services are available, and by configuring and maintaining operational support systems.
LP4.2: Provide guidance for service operation

Process objective: To provide instructions for the activities to be carried out by operational staff. This includes, for example, the preparation of detailed guidance for regular maintenance tasks.
LP4.3: Monitor the services

Process objective: To ensure continuous monitoring of both the service components and service usage, promptly responding to any detected irregularities.
LP4.4: Produce service quality reports

Process objective: To measure the achieved service quality on a regular basis and to identify areas where service quality must be improved.
LP4.5: Perform routine operational tasks

Process objective: To execute the routine operational tasks required to deliver the agreed service quality on a sustainable basis.
Process objective: To resolve service incidents (reports of suspected or actual service failures) or requests for service. In the case of service incidents, the primary objective of this process is to return the service to users as quickly as possible. In some cases this involves applying a workaround if the root cause cannot be readily identified and/ or resolved.
Process objective: To manage the lifecycle of all problems, where a problem is the underlying cause of one or several (potential) incidents. The primary objective of this process is to prevent service incidents from happening, and to minimize the impact of incidents which cannot be prevented.
Process outputs
This section lists the documents and records produced by the operational process. YaSM data objects [*] are marked with an asterisk, while other objects are displayed in gray.
---
Notes:
[*] "YaSM data objects" are those documents or records for which the YaSM model provides detailed recommendations: Every YaSM object has an associated checklist (see "Service quality report" template and more examples) describing its typical contents, and an associated lifecycle diagram depicting how the status of the object changes as it is created, updated, read and archived by various YaSM processes (see example).
"Other objects" are mostly informal data or information where YaSM has less strong views about their contents. There are no associated lifecycle diagrams or checklists.
Process metrics
Process metrics are used, for example, to assess if the service management processes are running according to expectations.
For suggestions of suitable metrics, please refer to the list of metrics for the service operation process.
Roles and responsibilities
Process owner: Operations manager
An operations manager will be needed to take overall responsibility for operating a service. For instance, this role will ensure that all day-to-day operational activities are carried out in a timely and reliable way.
Notes
Related articles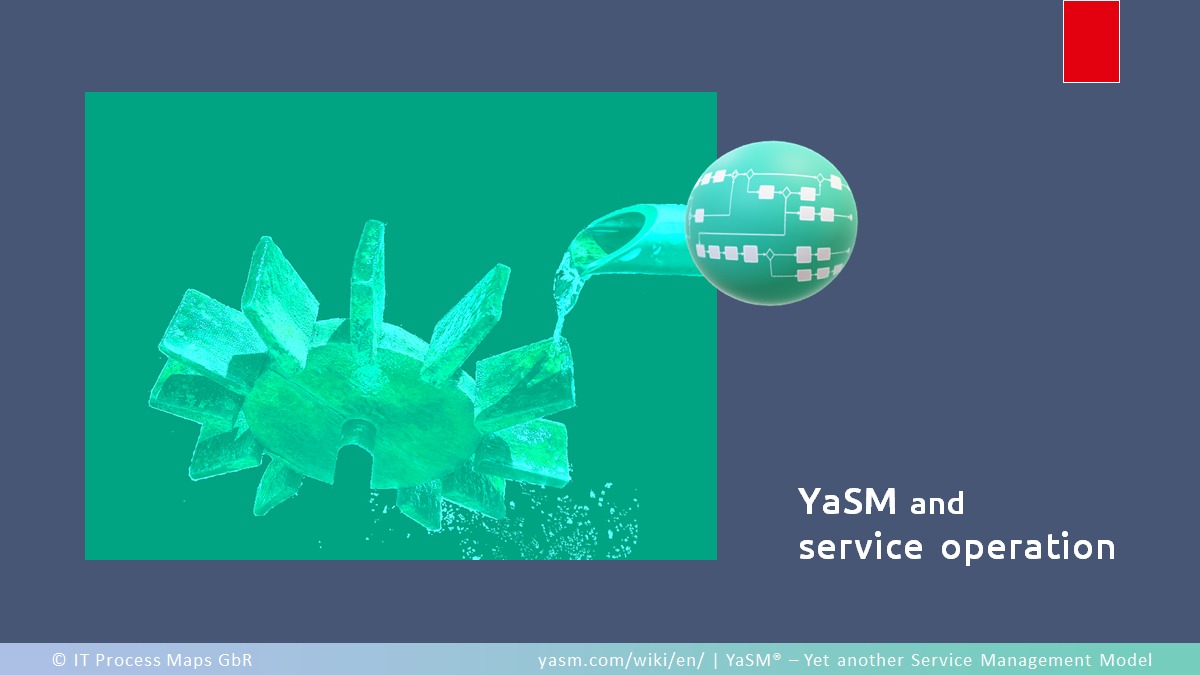 Service operation according to YaSM
by: Stefan Kempter
Since the existing guidance on service operation is well established and generally accepted, the service operation process in YaSM is based on the guidance provided in ITIL® and other service management frameworks.
What's special about service operation in YaSM? [...]
Process description  › Sub-processes  › Process outputs  › Metrics  › Roles