YaSM

®:

Yet another Service Management Model

YaSM stands in the tradition of other, similar frameworks for enterprise service management and IT service management (ITSM), such as ITIL®, ISO 20000 and CMMI-SVC, and like these it is about teaching organizations how to become successful providers of services, by building up a loyal customer base.
If you are new to YaSM, start with our introductory videos:
From countless conversations with our customers we learnt that many find the existing guidance useful in principle, but also rather complex and difficult to understand. So we decided that, after some 20 or 30 years, it was time for a fresh start with a new, streamlined service management framework that is easier to understand, has a perfectly clear and pragmatic structure, and is supported by a full set of ready-to-use templates.
What's more, we wanted to offer a framework that can be used for enterprise service management, as well as ITSM. And that's how the idea for YaSM was born.
The YaSM Service Management Wiki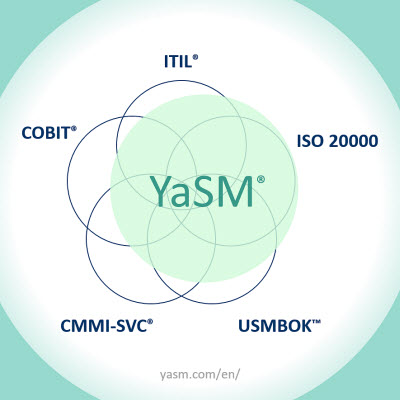 The YaSM framework as such is available to everyone for free, in the form of the "YaSM Wiki".
If you would like to learn more about YaSM in general and how it relates to other service management frameworks and standards like ITIL® and ISO 20000, please head over to the YaSM Wiki.
The YaSM Process Map
The most prominent YaSM product is a detailed process model called the "YaSM Process Map".
The process map is ideal if you want to learn how YaSM works: For each process and sub-process, our process model describes in the form of a diagram the activities to be performed, the required inputs and the resulting outputs.
At the same time, it is a set of ready-to-use process and document templates, so you can save time and effort when designing the service management processes for your organization. The YaSM® Process Map is currently available in English and German for Microsoft Visio® and the ARIS Process Platform™.
An additional component, the "YaSM - ISO 20000 Bridge", relates the YaSM processes to the mandatory ISO 20000 requirements and specifically addresses the needs of organizations that wish to achieve certification against ISO 20000.
For more information on the YaSM products, please refer to the product pages on the YaSM Process Map and the YaSM - ISO 20000 Bridge.