Availability Management
From YaSM Service Management Wiki

Availability management is a key topic in virtually all service management frameworks and standards:
So it is commonly accepted that the management of service availability is critical for any service provider, but still many organizations find it difficult to implement availability management in practice.
The problem may be the way it is presented: Availability management is usually described as a distinct process, practice or capability, using its own set of plans and reports. It has numerous interfaces with other processes because it needs to spring into action whenever service availability issues need to be dealt with.
This kind of complex interfacing makes it hard to understand how all the processes are supposed to work together, which in turn makes it difficult to implement a working set of processes in practice.
Availability management in YaSM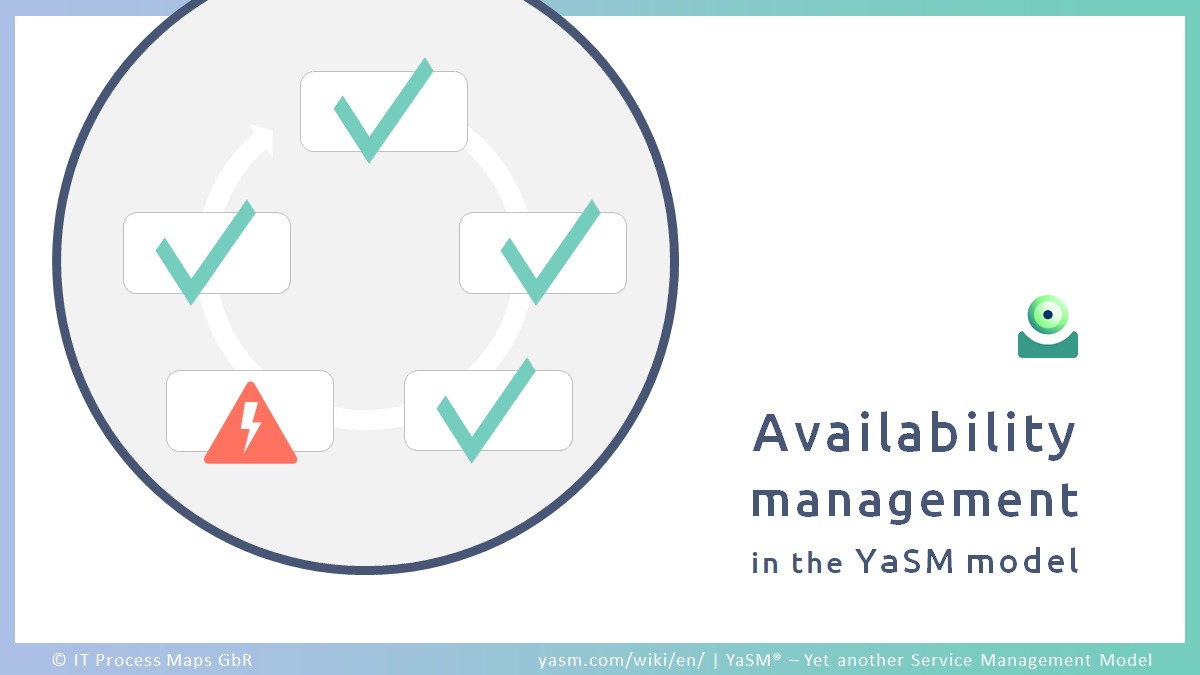 To get around these problems in YaSM, we decided that availability management does not need to be a service management process of its own. Instead, YaSM takes the view that service availability is an aspect to be considered at every stage of the service lifecycle - for instance when defining services, during service operation, and when continuously improving services.
There are thus, for instance, activities in the service design processes to identify and define the required levels of service availability. Service availability is continually monitored as part of service operation, and if any availability issues are detected, corrective action will be taken - either in the form of pre-defined routine operational activities or service improvement initiatives.
As a result, it is very clear in YaSM how service availability can be managed by embedding appropriate activities in the service lifecycle processes. Implementing an availability management capability in practice is thus quite straightforward.
On a side note, the YaSM way of managing service availability is quite in tune with the latest thinking in service management:
F.e., ITIL V4 describes availability management as a practice and lists the key activities, but does not say there must be an availability management process. Rather, ITIL 4 encourages service providers to define tailor-made processes that work for the organization.
Related pages
References
[AXELOS, 2019]. -- AXELOS: ITIL® Foundation, ITIL 4 Edition. - The Stationery Office; Norwich, UK, February 2019.
By:  Stefan Kempter 

, IT Process Maps.