YaSM Service Management News
From YaSM Service Management Wiki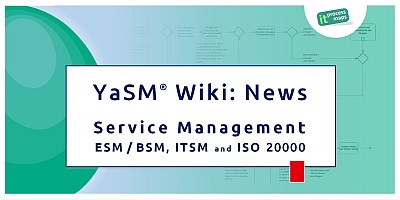 The latest changes and updates to the Service Management Wiki and the YaSM process model.
News and videos about service management: ESM / BSM, ITSM and ISO 20000.

Service management process model for BIC Process Design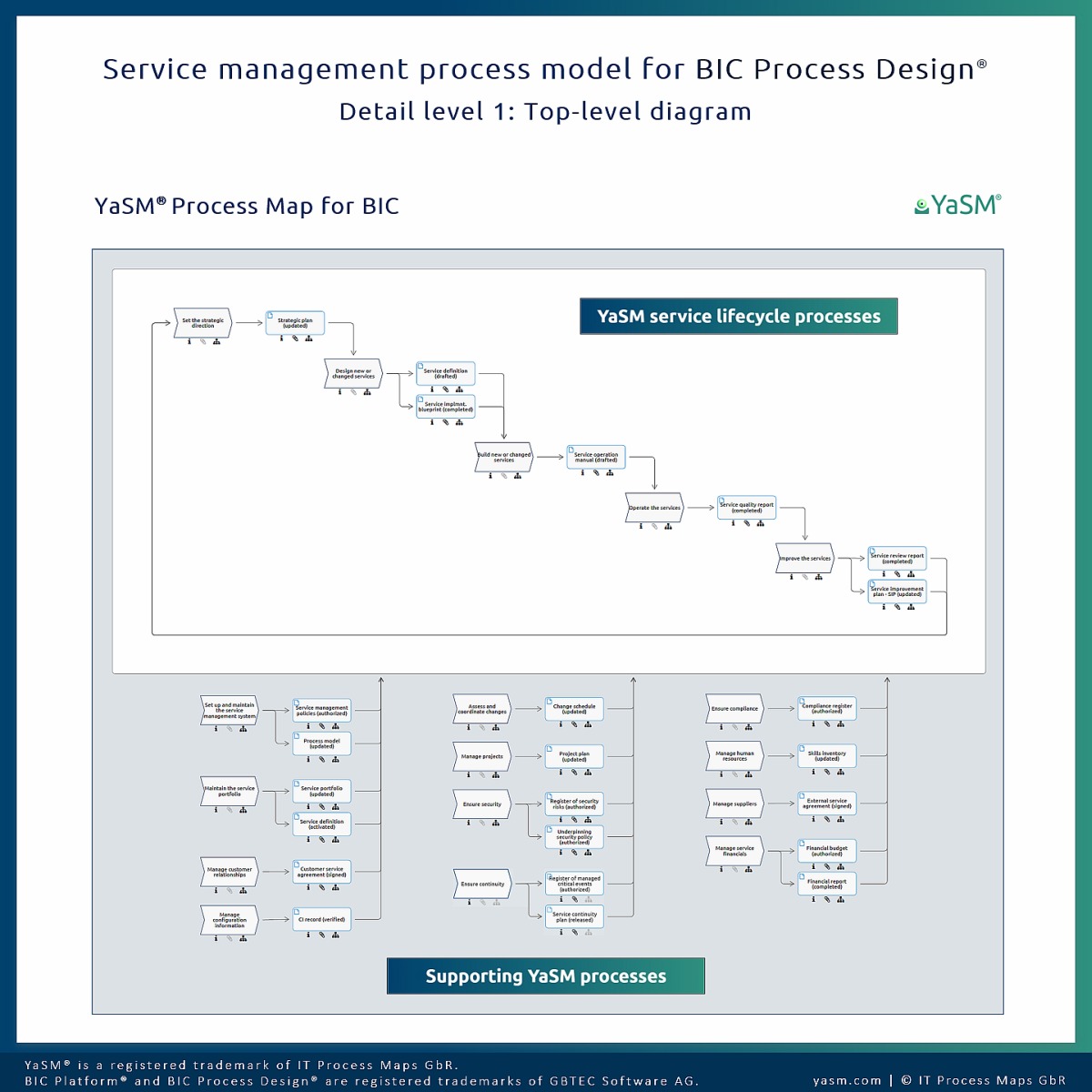 The YaSM® Process Map is now available for another process management tool: BIC Platfom® / BIC Process Design® by GBTEC Software AG!
The service management process model for BIC was developed specifically for companies, organizations and public administration that use GBTEC's BIC platform® to build their digital process landscape.
GBTEC Software AG, headquartered in Bochum, Germany, develops and markets the BIC Platform® - a digital transformation solution that also includes the BIC Process Design® module for Business Process Management (BPM). BIC features a modern, easy-to-use process portal where organizations model, analyze and optimize their workflows. It is a popular BPM tool used by organizations of all types and sizes.
The YaSM® Process Map for BIC is provided as a native BIC repository that can be imported into BIC Process Design®. It is thus the perfect foundation for organizations that wish to align their service management processes with best practices such as ITIL®, ISO 20000, FitSM, etc.
Service management templates (checklists)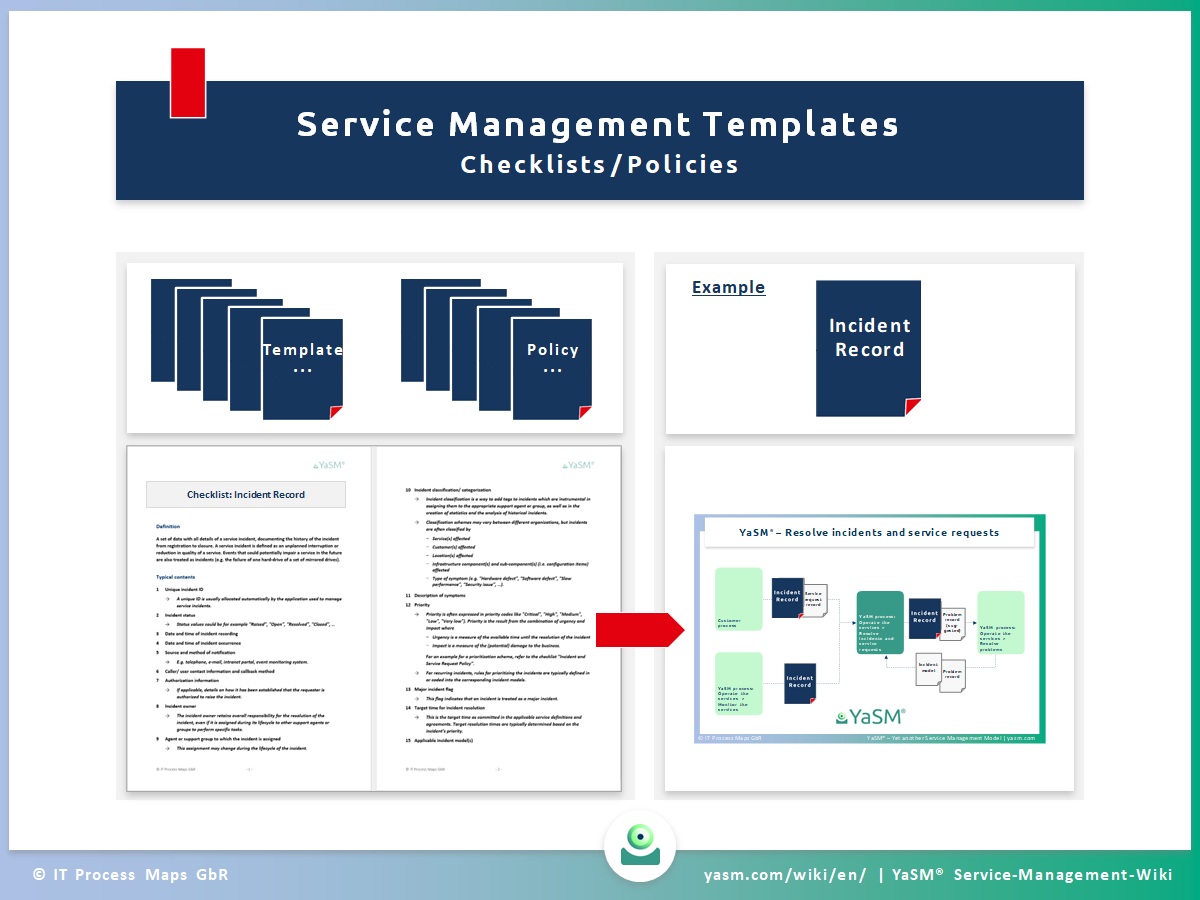 The most frequently requested service management checklists and document templates are available for you in our YaSM Wiki.
The checklists are generic, i.e., applicable to a majority of service provider organizations. They can be used as templates in many cases where specific service management documents need to be created for a particular organization.
FitSM - lightweight IT service management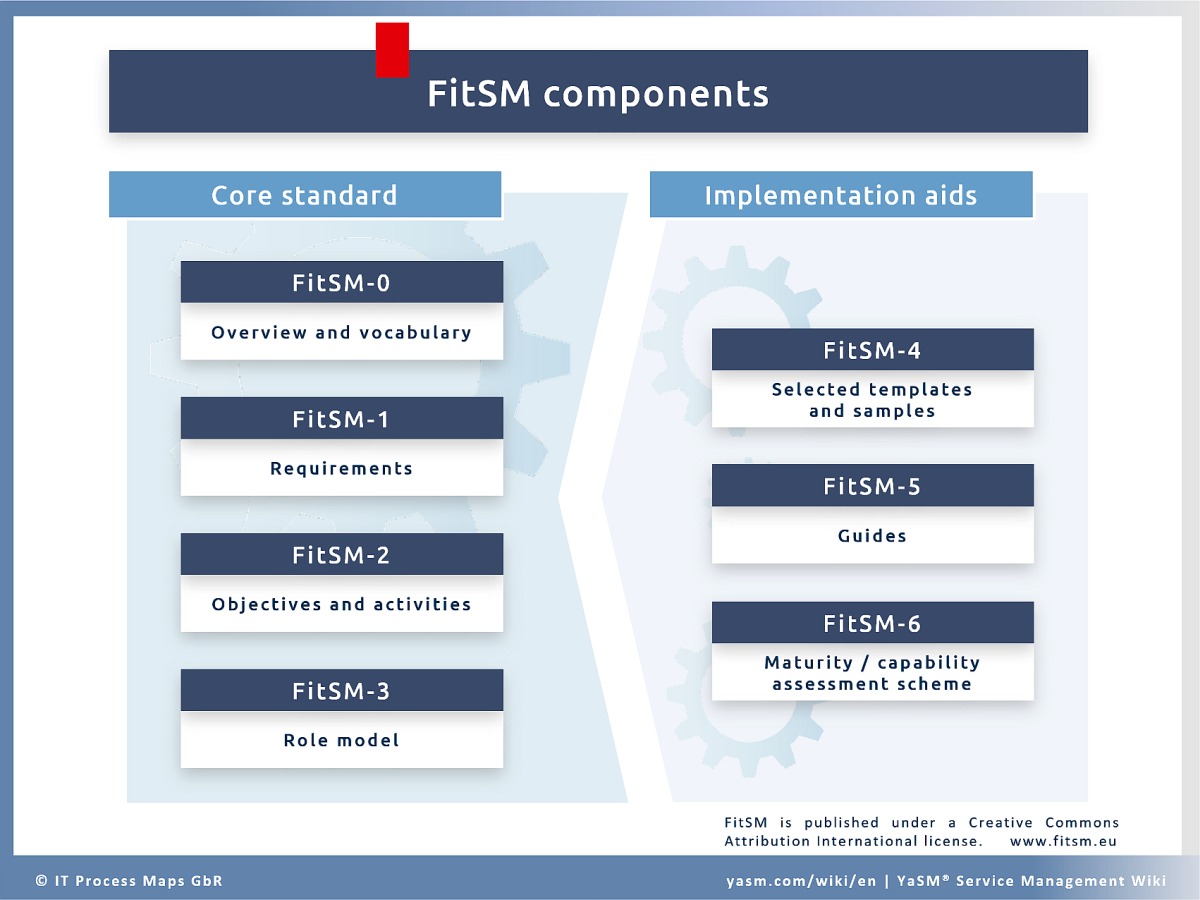 FitSM (Federated IT Service Management) seeks to differentiate itself from other standards by focusing on the essentials.
What exactly is FitSM, and what components and documents does this lightweight family of ITSM standards include? Can the YaSM service management model be used to support FitSM projects?
Service management diagrams in BPMN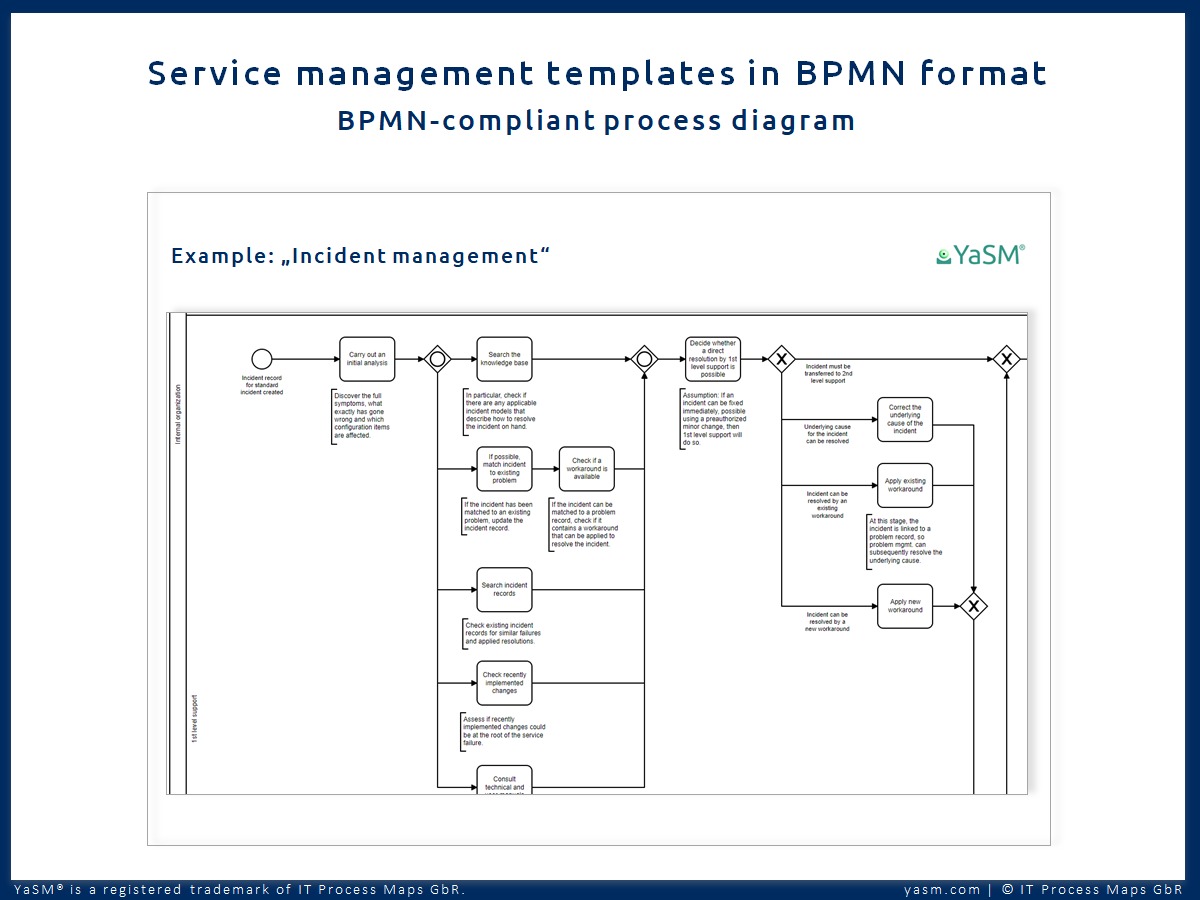 Business Process Model and Notation (BPMN) has emerged as the open de-facto standard for business process diagrams. Many tools for business process management - such as Adonis®, Signavio® or Bizagi® - support the import of BPMN-compatible process definitions.
For users of such BPM tools, we provide the YaSM process templates as BPMN-DI compliant XML documents.
Video | Where to start with service management?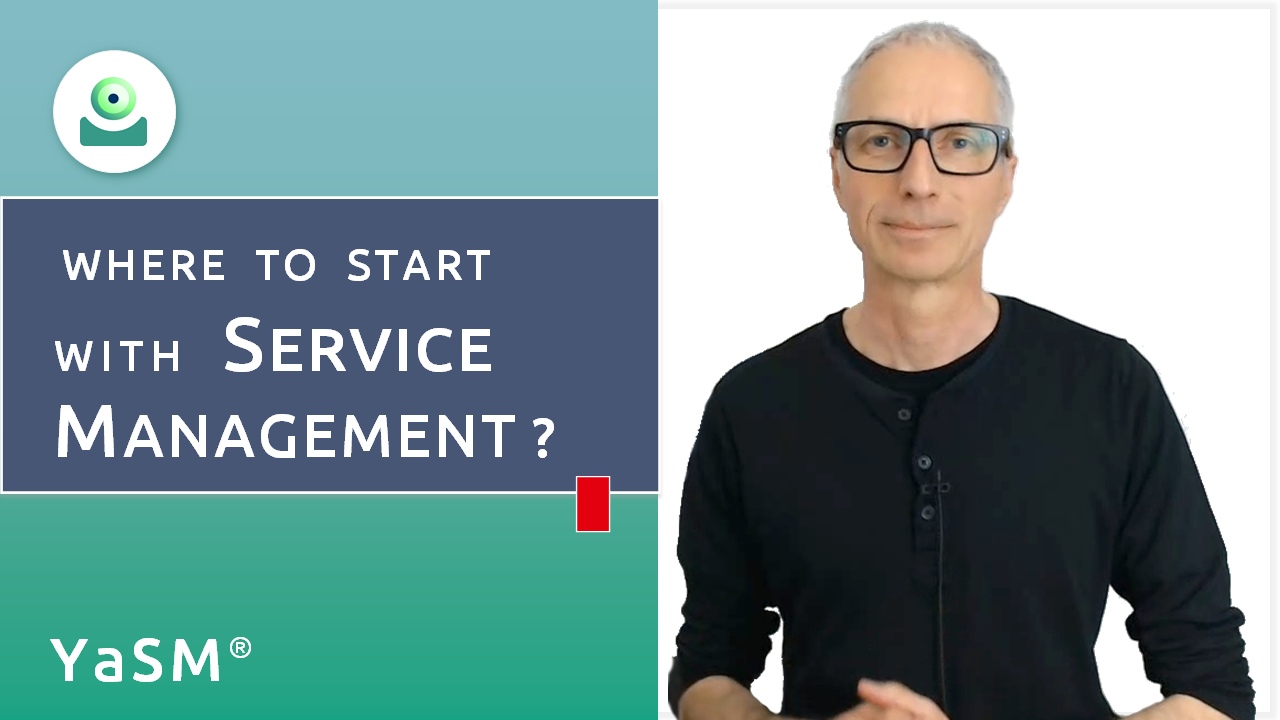 In our latest video Stefan Kempter presents a high-level roadmap that shows the steps required to bring the service management guidance to life in your organization.
The YaSM Process Map - ready-to-use service management process templates
The YaSM® Process Map is a set of process diagrams and document templates for organizations that want to get serious with introducing enterprise service management or ITSM best practice.
You can obtain the process model as a set of Visio® diagrams or as a complete ARIS™ reference model. All process diagrams and documents are completely editable; these service management templates can be adapted to the needs of particular organizations.
Video | YaSM and ITIL 4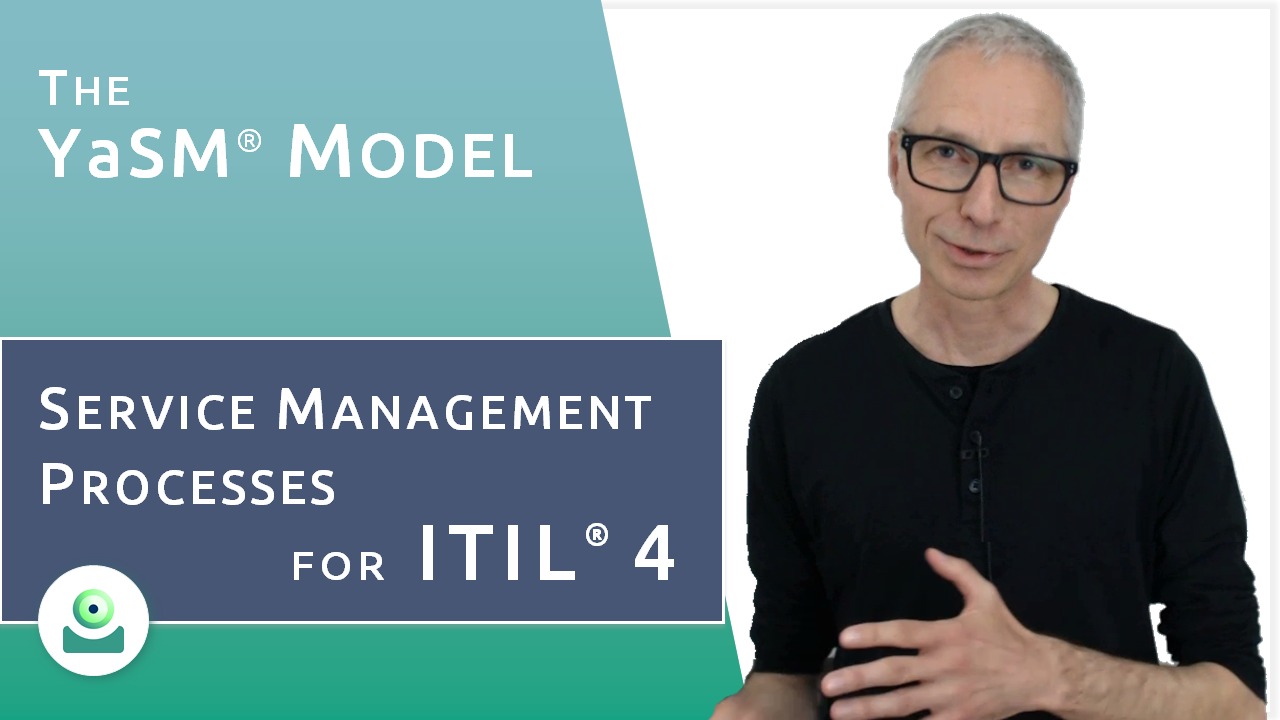 Translating ITIL 4 into specific service management processes is difficult for many organizations: The latest edition of the popular ITIL framework describes principles and practices and includes a huge amount of guidance, but ITIL 4 also says we should use common sense and keep things 'simple and practical'.
The YaSM model describes exemplary service management processes that follow the ITIL 4 guidance, and it provides a complete set of process templates for managing services:
Service management FAQs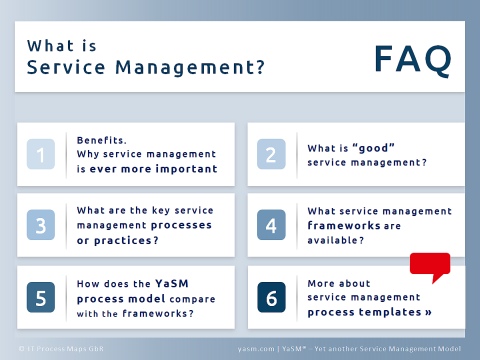 As a professional domain, service management has been maturing for decades. Today, organizations that provide services can tap into a huge body of knowledge.
There are many areas where an organization can benefit from adopting service management best practice, including better alignment of services with business, customer and user demands, best use of resources, and elimination of redundant work.
What are the differences between ITIL 4 and ITIL V3?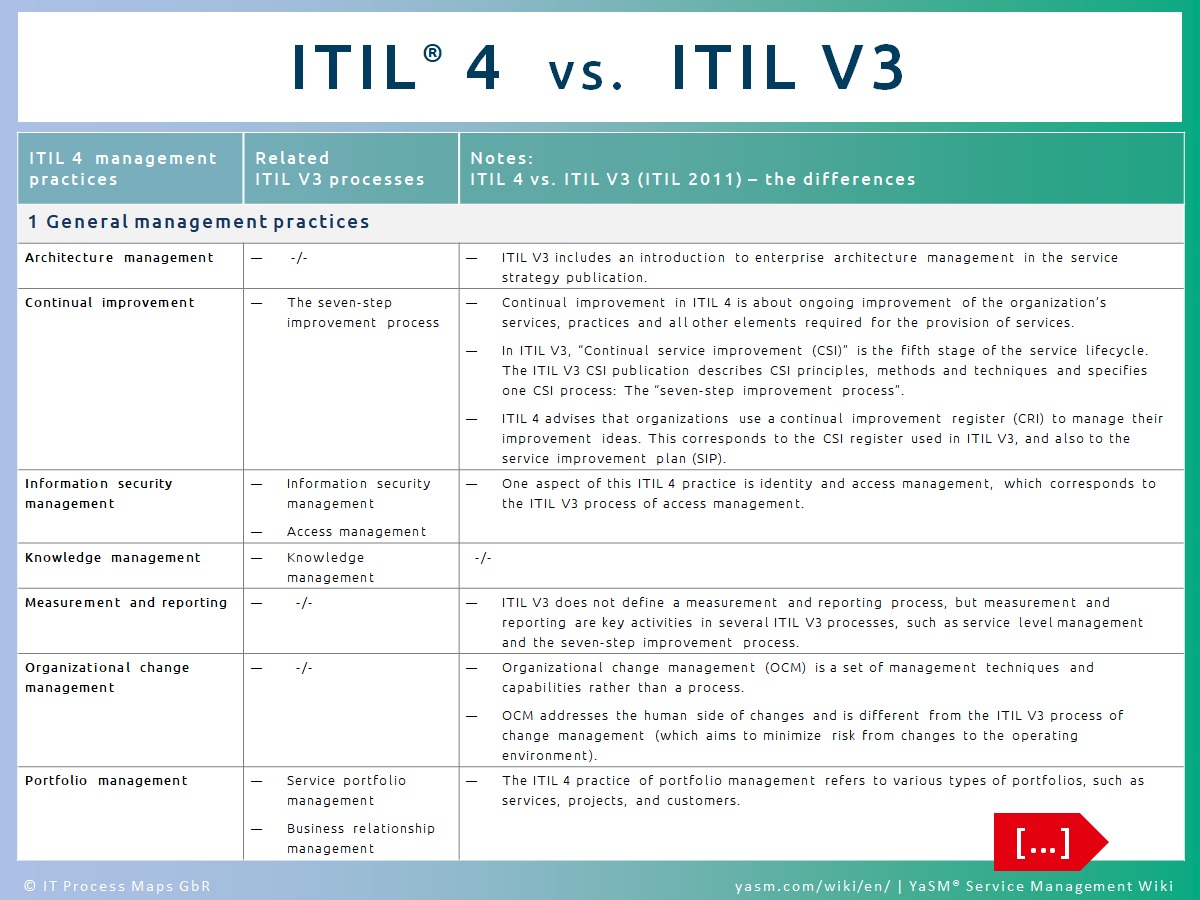 Has ITIL 4 dropped the ITIL V3 service lifecycle? Where in ITIL 4 are the ITIL processes?
Here in the YaSM Wiki we describe in detail here the new ITIL edition has added new guidance, and how the contents in ITIL 4 can be traced back to specific elements of ITIL 2011.
Video | What is service management?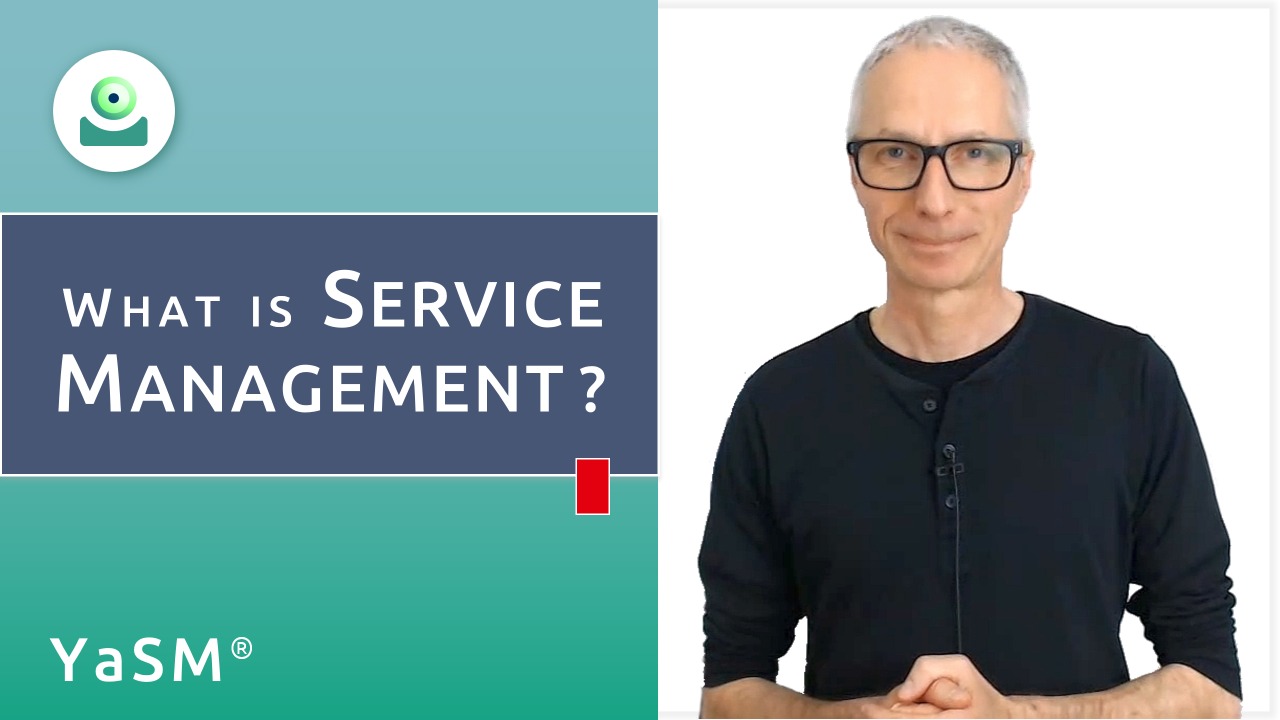 Service management is a concept that describes how organizations provide quality services that are a hit with customers.
In this video, Stefan Kempter explains how service management helps organizations build up a loyal, or even enthusiastic, customer base, and why the topic is getting a lot of attention these days.
5 steps to better service management: Project guide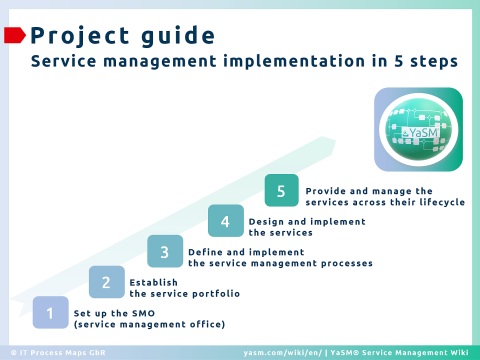 We have created a roadmap for organizations that seek to improve their service management. It provides a high-level description of a service management implementation project that will be usable across a wide range of diverse organizations.
The example documents used in our roadmap are from "Jack's Hiking Gear", a fictitious company. We have invented Jack's to showcase how service management works in practice.
Video | Service Management Office (SMO) with Microsoft Teams and YaSM
In this new video we take a look at the concept of the service management office, and how the YaSM process model help you getting started with an SMO.
We also show you a few practical examples, of how Microsoft® Teams - a solution for collaborating and sharing content - can provide the technical platform for a virtual or distributed SMO. Teams is a powerful platform, and it's especially useful if your service management office is a virtual team whose members are in different locations.
What is YaSM? | A recorded version of the YaSM webinar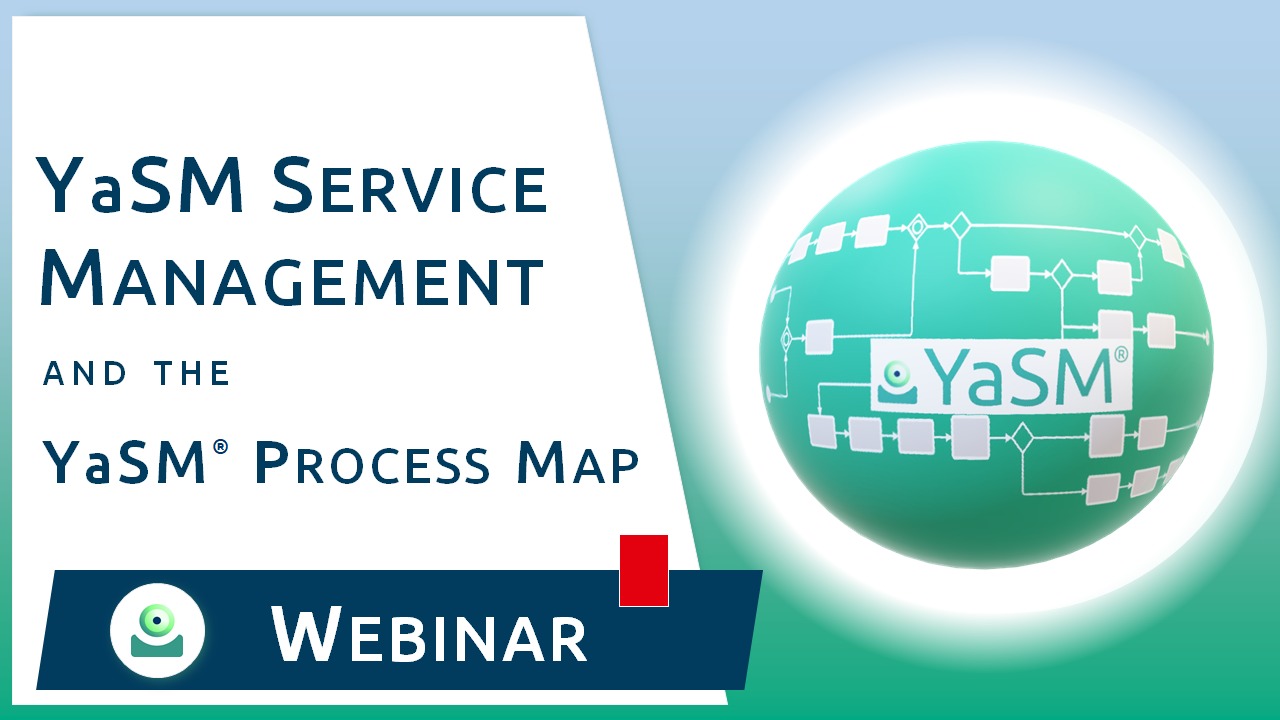 Stefan Kempter explains what the YaSM model is about. He presents the free "YaSM Wiki" and the "YaSM Process Map":
A process model with a complete set of process and document templates for organizations that want to get serious with introducing YaSM.
Why YaSM service management may be good for your business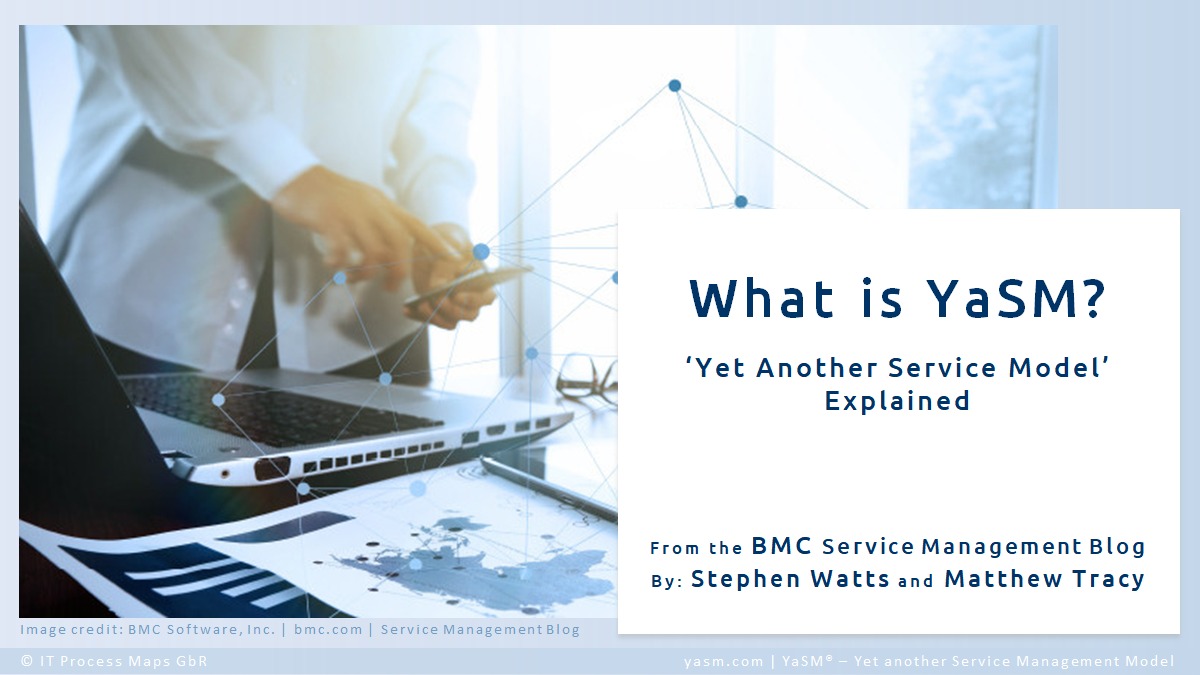 This article by Stephen Watts and Matthew Tracy explains how "YaSM works as a spine for a number of frameworks and is particularly useful when working with ITIL, ISO 20000, VeriSM, SIAM [...]" and others.
Learn more about the reasons why organizations find the YaSM model beneficial:
What is new in ITIL 4?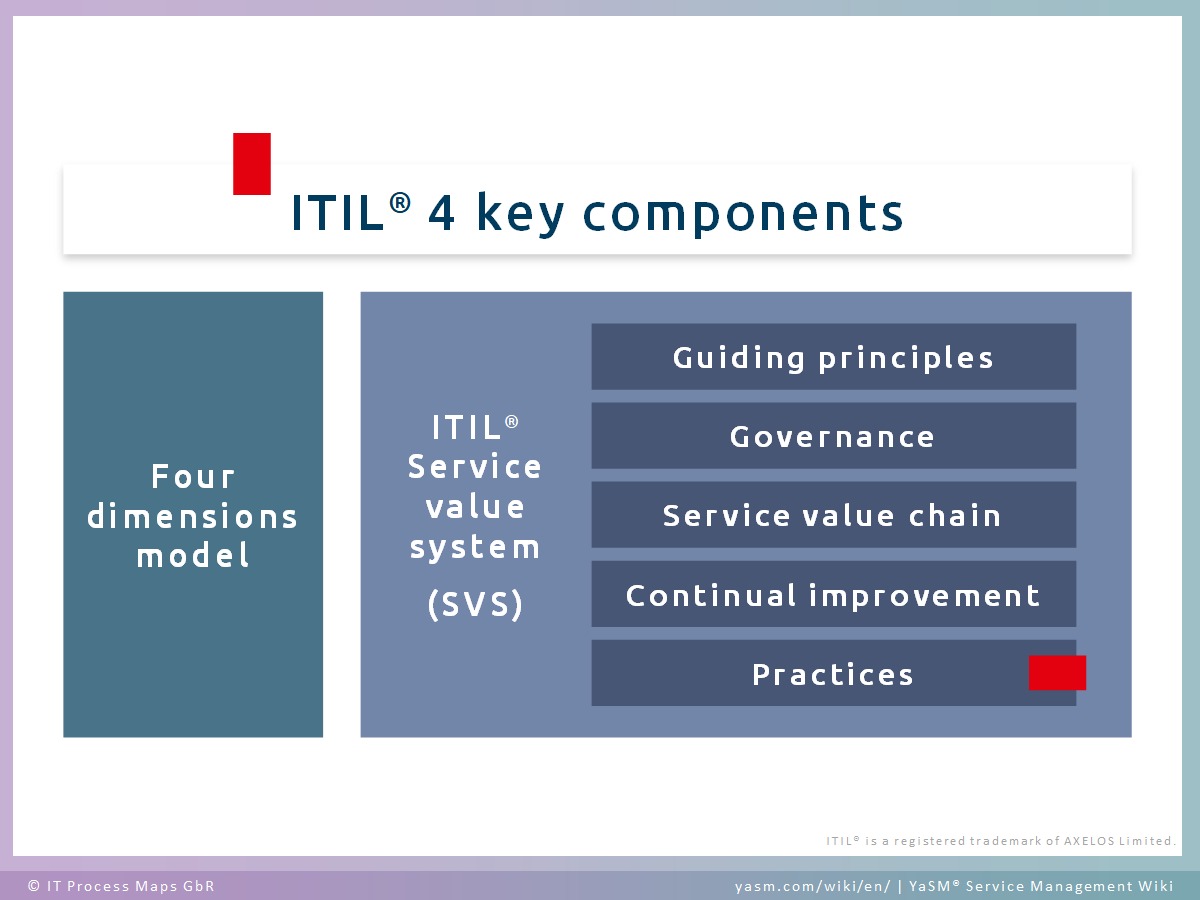 The current version of ITIL 4 takes a more holistic approach than previous versions, focusing on "end-to-end service management from demand to value".
Learn more about the ITIL 4 key components - the four dimensions model and the ITIL service value system (SVS).
Video | YaSM and ISO 20000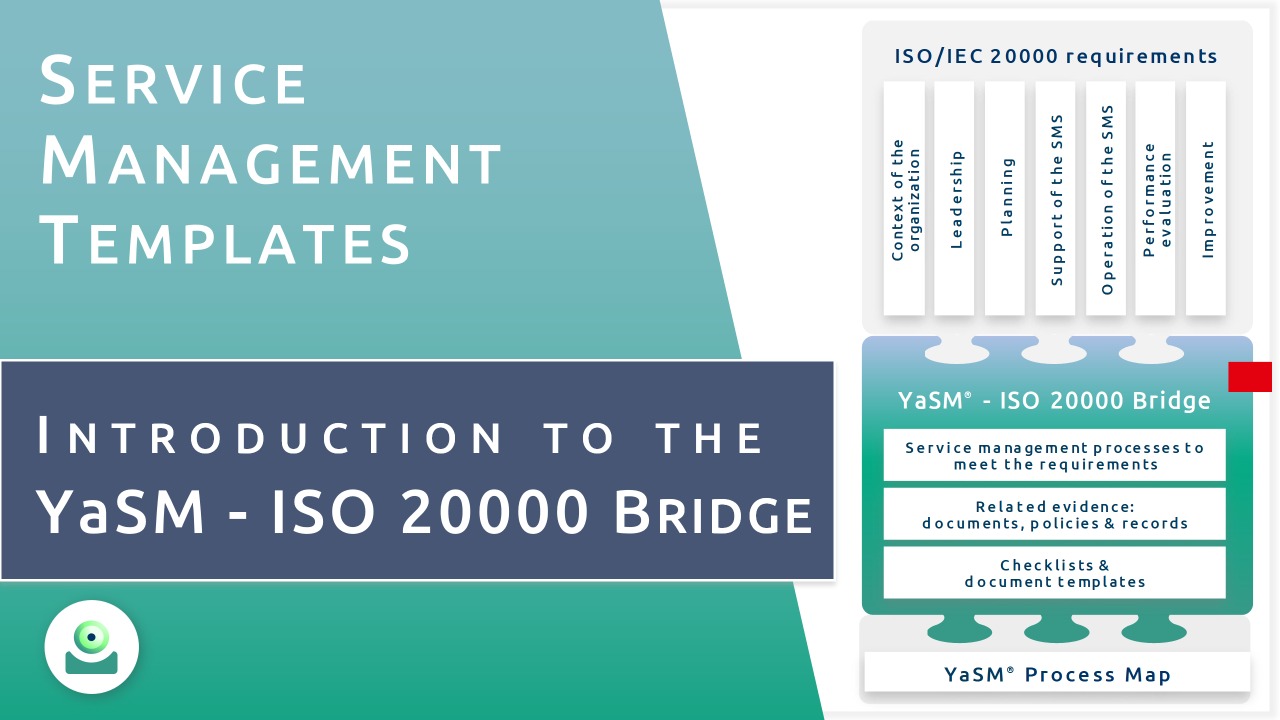 Process models and document templates for every single ISO 20000 requirement: The YaSM - ISO 20000 Bridge makes getting started with the standard a lot easier.
The process diagrams and document templates contained in the YaSM model make the huge task of designing ISO/IEC 20000 compliant processes for your organization manageable: A set of detailed diagrams relates the standard's mandatory ISO 20000 requirements to the process diagrams and checklists of the YaSM Process Map.
Video | Introduction to the YaSM service management model
YaSM ('Yet another Service Management Model') is a streamlined and easily understood process model for service management and ISO 20000 that provides ready-to-use templates for your processes and documents.
If you are new to YaSM, start here:
Comparison: YaSM and ISO/IEC 20000
One of the objectives when creating YaSM was to provide a service management process framework which is closely aligned with ISO/IEC 20000 ('ISO 20000').
Frequently, certification according to ISO 20000 is sought because it enables organizations to prove that they are customer-oriented, efficient and effective suppliers of services. The certification can thus be used for marketing purposes, or to gain access to customers and markets which require their service suppliers to be ISO 20000 certified.
YaSM consists of a tightly focused set of processes, policies and document templates which provide a solution for every ISO 20000 requirement.
ISO 20000:2018 - New edition of the ISO 20000 standard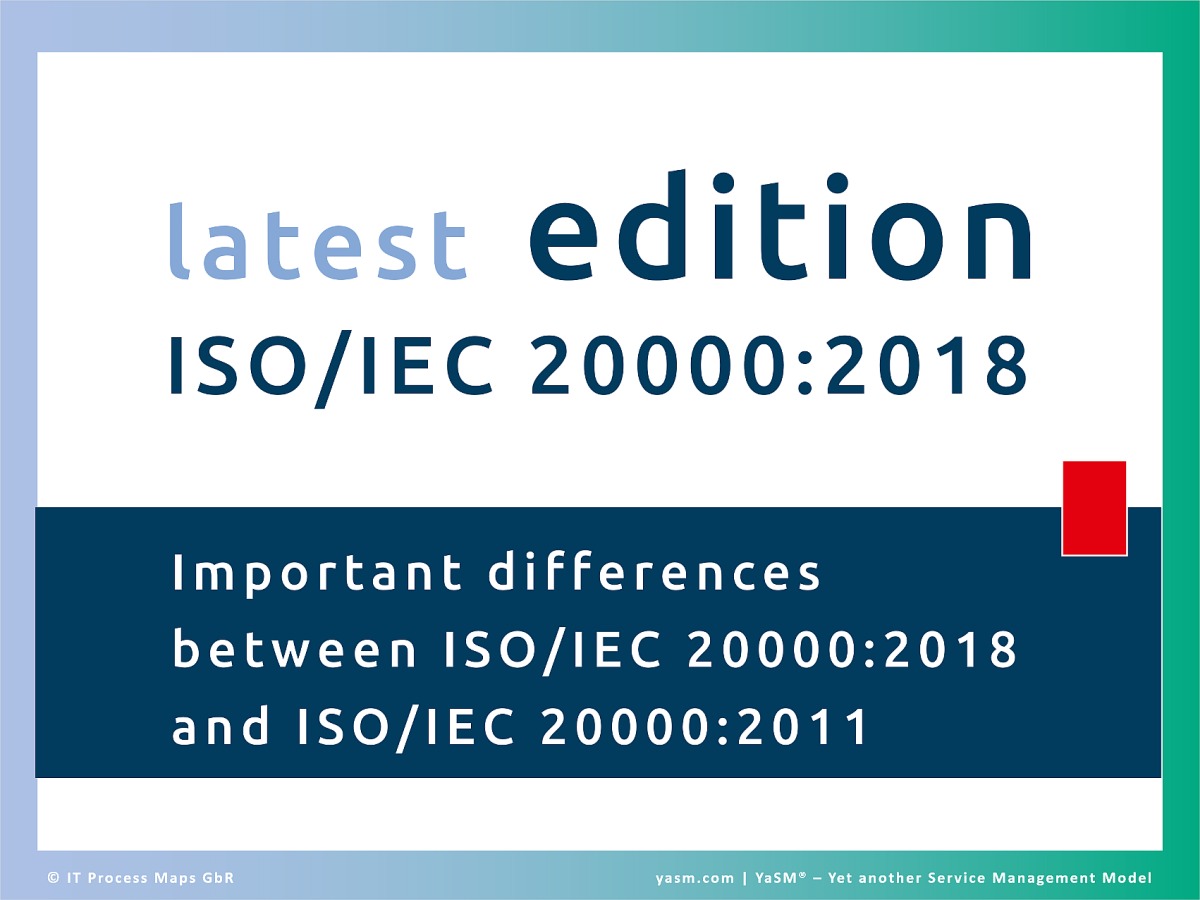 The new version of ISO 20000:2018 is here, and our YaSM - ISO 20000 Bridge is in line with this latest edition of the standard.
ISO/IEC 20000:2018 (Part 1) is a completely revised version of the international service management standard, ISO/IEC 20000:2011.
With the update of the ISO 20000 standard, new requirements have been introduced.
Video: The YaSM RACI matrix
A RACI matrix ("responsibility assignment matrix") describes the participation by various roles in completing tasks or deliverables for business processes. RACI models are especially useful in clarifying roles and responsibilities in cross-functional processes. RACI models are especially useful in clarifying roles and responsibilities in cross-functional processes.
The video shows how to use the responsibility matrix included in the YaSM® Process Map:
New video: Enterprise service management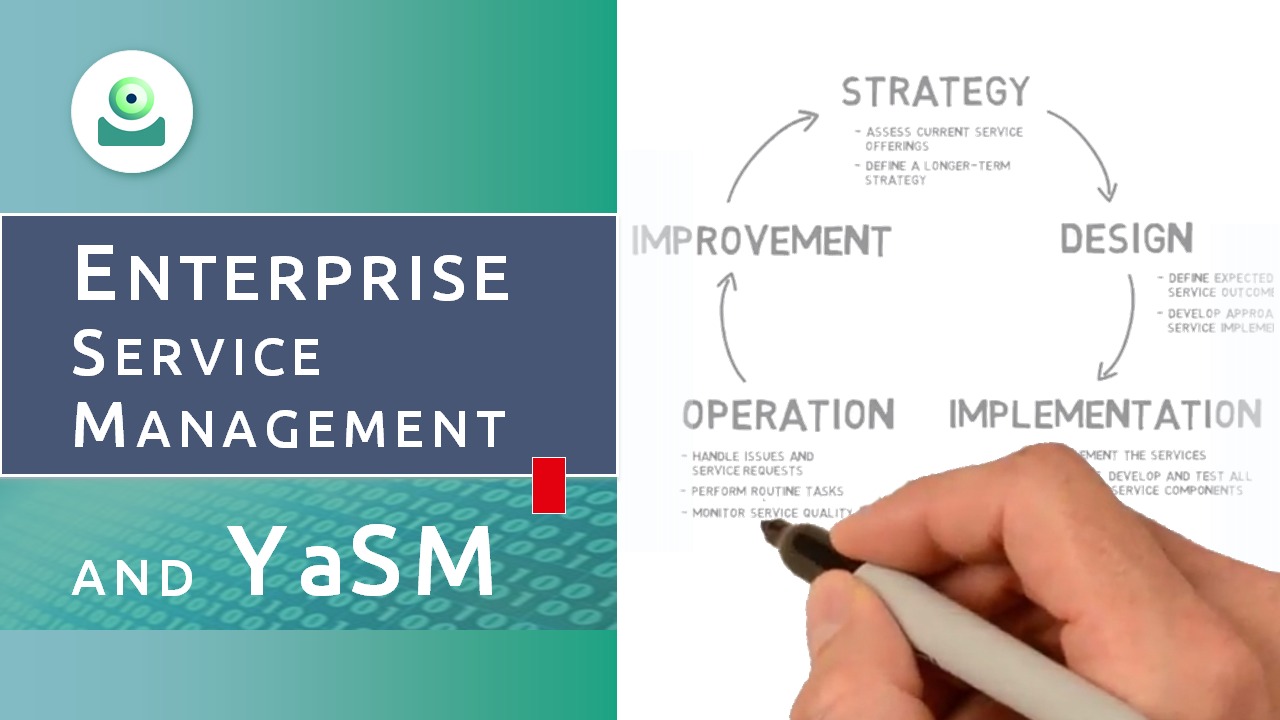 In this video Stefan Kempter explores the roots of enterprise service management in IT service management (ITSM) and explains what it's all about.
And he shows how the YaSM framework helps you with introducing the enterprise service management approach in your organization.
Video series: The simple principles of good service management
Today, some 20 or 30 years after the beginnings of service management best practice, we go back to basics again and start a new series of videos about the simple principles in service management - and how to apply them in real life:
There have always been a number of time-tested, simple principles in service management that we must get right in order to become successful providers of services. In our videos we explain how you can bring these principles to bear in your organization.

What is enterprise service management?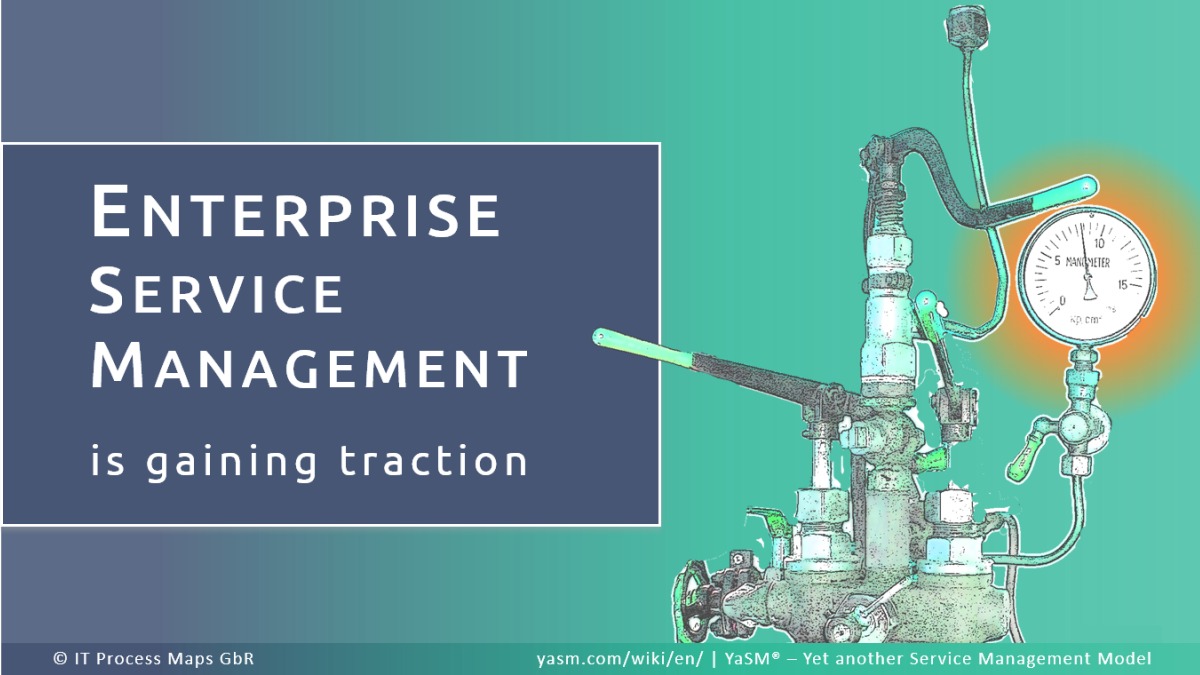 Enterprise service management (ESM) is a growing trend in the service industry but it's not a new invention. In fact, we've been using the ideas behind ESM for decades, but mainly in the field of IT services.
If you would like to learn more about the history of enterprise service management and what it is about, head over to the following page:
Launch of the free YaSM Wiki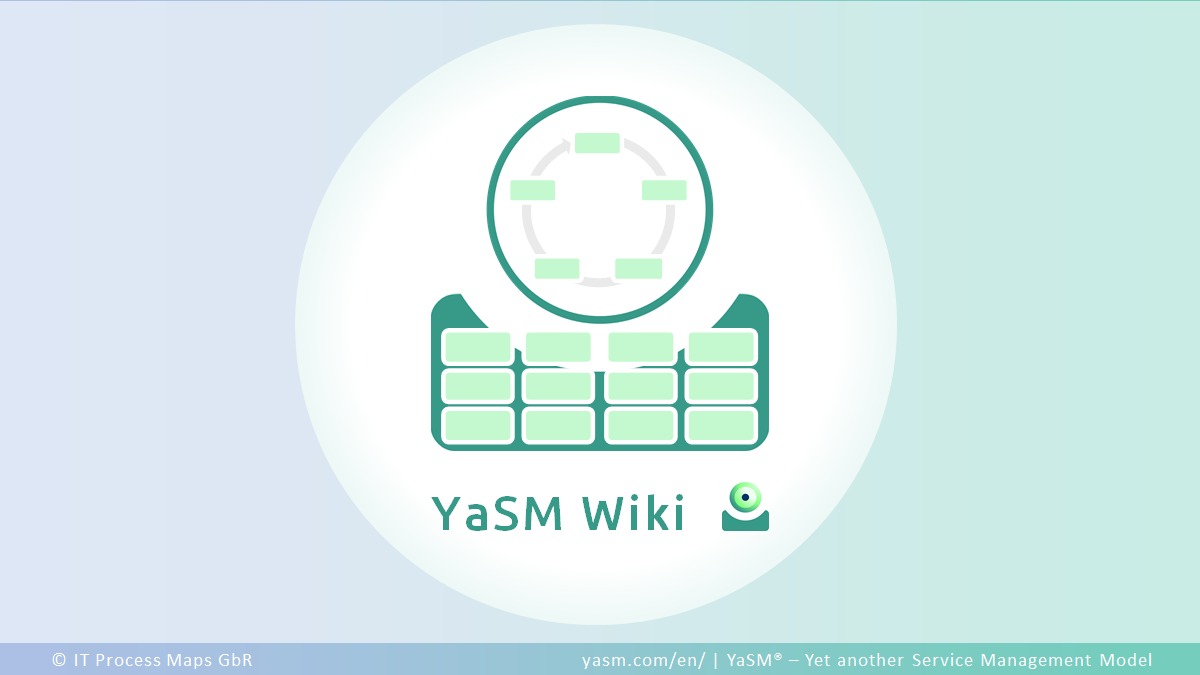 We have been running an ITIL®-Wiki in three languages for many years and received a lot of positive feedback. So setting up the YaSM Wiki was a natural thing to do once YaSM was ready to be launched.
YaSM news
Service management explained: Here we share articles and news about YaSM, streamlined service management, ITSM, process templates and the YaSM service management wiki.
Notes
Trademarks:
[1] YaSM® is a registered trade mark of IT Process Maps GbR.
[2] ITIL® and IT Infrastructure Library® are registered trade marks of AXELOS Limited.

By:  Andrea Kempter 

  and  Stefan Kempter 

, IT Process Maps.